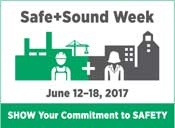 It's Safe + Sound Week, and it's a good time to demonstrate your business's commitment to safety. A good safety program can strengthen management leadership, improve worker participation, and find and fix hazards to ensure workers go home safe and sound every day.
According to the U.S. Bureau of Labor Statistics, more than four million workers suffer from serious job-related injuries or illnesses each year, and more than 4,000 Americans die from work-related incidents annually. Workers are a company's most valuable asset, and keeping them safe at work each day is part of what makes a sound and sustainable business.
Landscape companies have multiple opportunities to take a proactive approach to keeping workers safe and healthy, such as:
stressing the importance of using personal protective equipment (PPE)

outlining a plan to prevent or treat heat stress

reviewing equipment safety

reminding staff to identify safety risks and notify a supervisor so that they can be corrected
Safety and health programs can help businesses of all sizes be safer and more productive places to work. For more information, visit www.osha.gov/safeandsoundweek.
Read more in this issue of Colorado Green NOW:
ALCC members reach the Top 100
OSHA issues silica rule compliance guide
Safe + Sound Week offers opportunities to focus on safety
Designs by Sundown creates award-winning outdoor room