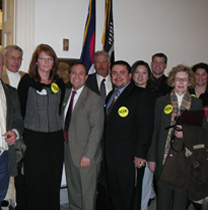 ALCC/GreenCO Advocacy


Other than the weather, nothing affects your business more than government. Whether water law changes, new fees for business or vehicle registrations, immigration or workers' compensation mandates, ALCC watches this information at the state capitol and in Washington, DC.
Through GreenCO, ALCC advocates for members and the industry at the state legislature. Read 2018 GreenCO legislative priorities.
The following policy issues will be closely monitored by GreenCO lobbyists on behalf of ALCC during the 2018 session. There will be additional issues that will come up and these will be identified by ALCC representatives in the GreenCO Legislative Committee meetings.
Policy Issues being watched for 2018 session:
State water issues to include the funding of state water plan, utilization of BMP's by local governments and water districts. Nothing controversial has emerged from interim water committee for this session.
Workers' Compensation revisions to include possible Independent Contractor changes, benefit discussions, employer mandates or reciprocity with other states.
Pesticide regulation to prevent expansion of local control, possible bans on pesticides or expansion of regulatory burden.
Construction defects legislation. More work on liability issues has to be accomplished and last session's small victories can set the stage for further action.
Sales tax reform issues will be forwarded by a task force that was created last session. There is still a great need for uniformity and single point of payment for businesses.
Snow removal liability issues will be closely watched. The need for reform of liability for snow removal contractors grows every year.
Infrastructure funding will again be a major issue in the session. Two major points need to be addressed; productive rollout of the funding provisions in SB-267 using COPs and the enactment of long-term funding for highways to meet future needs. Possible ballot referral measures will be needed.
Closely watch the regulation of backflow devices and their use and installation in Colorado.
Watch budget issues for possible opportunities for tax credits or other incentives for employers to hire workforce from targeted populations and possible incentives for the hiring/training of needed job skills.
Read the legislative tracking report and see the specific bills we are following.