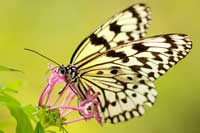 In May, Colorado legislators passed House Joint Resolution 17-1029, which designated Interstate Highway 76 from Mile Marker 1 to Mile Marker 183 as the "Colorado Pollinator Highway."
The resolution does more than simply rename the stretch of highway. It encourages the state Department of Transportation "to implement Integrated Roadside Vegetation Management in coordination with regional planners, local governments, and adjacent landowners in order to better manage a right-of-way to promote pollinator habitat."
It also allows CDOT to accept gifts, grants, and donations for signs marking the pollinator highway. CDOT will work with county commissioners to maintain the signs.
Maintenance of the highway itself may get easier with the designation, too, as managing a pollinator-friendly right-of-way won't be mowed often. This allows pollinators to nest and to forage for food.
The pollinator highway is a demonstration of Colorado's interest in protecting pollinators. The resolution was adopted ahead of National Pollinator Week (June 19-25, 2017), which exists to celebrate pollinators and their importance in the ecosystem.
Initiated by the Pollinator Partnership and recognized by the U.S. Department of Agriculture and the U.S. Department of the Interior, National Pollinator Week features a variety of events across the U.S., hosted by government, public, and private groups.
Read more in this issue of Colorado Green NOW:
Designs by Sundown creates award-winning outdoor room
ALCC members reach the Top 100
OSHA issues silica rule compliance guide
Safe + Sound Week offers opportunities to focus on safety