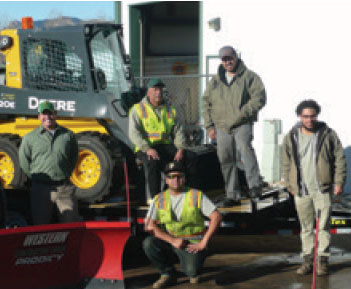 The recession of 2009 helped one ALCC member go from seasonal to year-round work, thanks to owner John Reffel's ability to be flexible and open to change. JLS Landscape & Sprinkler, Inc. has built its success by expanding and contracting its services to reflect the economic climate and to meet consumer demand.
When the recession began in 2007, JLS saw a slowdown in commercial installation, which was then 60 percent of their business. Low margins and increased competition made business growth unlikely.
"That's when we purposely looked at growing maintenance and snow removal," says Reffel. "When we focused on selling additional snow removal, it grew."
From that growth came a new business model. Snow removal replaced commercial installation as 60% of the business, and JLS dropped those commercial installation services in order to concentrate on snow removal and commercial maintenance.
Why would they drop what had once been a majority of JLS's income? The answer has more to do with having a reliable, consistent team of employees. Instead of hiring seasonal workers for installation projects or having to work with the H-2B visa program to fill those positions, JLS can now keep staff members throughout the year, as they perform both maintenance and snow removal work. That consistency is a source of strength. Filling snow removal jobs during storms is still a challenge, but their core crew is always there to work. Those crew members have become like family, says Reffel.
"We have a family-oriented culture," he says. "I like seeing my family every day. When I say 'family' it includes my employees, not just my wife and sons."
That family is what enables Reffel and JLS to adapt to changes in consumer needs and fluctuations in the economy. Customers may come and go, but family remains—throughout the year, ready to offer the services necessary to grow the business again.
Read more in this issue:
Better by nature: Certification is part of LandCare's mission
Hiner Landscapes, Inc. receives The ELITE Award for Innovation
New OSHA rule regarding silica dust exposure
Houzz study offers insights on landscaping trends