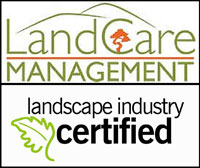 LandCare Management believes that certification is a critical step to achieve the company's vision. It is not only an essential part of marketing, but a building block for overall employee development. LandCare's mission includes using "professionalism and experience to provide quality services." However, this is only achieved when employees are experienced and are empowered to utilize their knowledge in decision making. LandCare promotes certification because of its effect on the employee's confidence, the company culture, and competitive advantage.
Not everyone outside the landscape industry sees our jobs as requiring a significant amount of knowledge. However, with today's changing climate of technology and expectations of service, our work is no longer just simply cutting grass and replacing a sprinkler head. Water Conservation and Sustainability are what set LandCare apart, but understanding these facets requires extensive knowledge and the ability to apply that information in different circumstances. What better knowledge than studying for certifications and gaining the tools of real-world experience. Even more important than initial certification is the continuing education required to keep up with the ever-evolving technology--and to maintain a certification.
Certification separates us from the competition. We believe the competitive advantage that certification provides will reveal our knowledge and experience, which contributes to a long-term relationship with the client. It shows our clients that LandCare will do it the right way; they can trust that we have their best interest in mind. Certification prevents bad habits by equipping our professionals with the necessary tools to install and manage a landscape using BMPs.
More important than marketing is the self-confidence that certification offers. The owners and managers believe in the staff, but that only goes so far if they don't believe in themselves. Certification is a large part of our vision for professional development, but it also requires each person to set and achieve their personal goals. Certification creates the value of knowledge and self-confidence. I believe certification is becoming instilled in our company culture. Each time someone passes an exam, there is an excitement for our entire team knowing that person, and the entire team, will be better because of it. The knowledge is disseminated throughout our team and we all get to learn from each other.
Certification is not just a buzz word around LandCare. In fact, the expectations of achieving certification are expressed each time an interview is conducted. The expectation to achieve a landscape-related license or certification is conveyed from the beginning of the hiring process throughout their tenure at LandCare. Our owners believe they have to walk the walk. George Biedenstein, David Brooks, and I all carry various certifications along with college degrees. Perhaps this is why we see the value in certification. Even more so, the owners care about the employees because they understand LandCare is nothing without them. They know some people they invest in will leave for other opportunities, but at the end of the day they know the employee is better because of their experience at LandCare.
LandCare looks forward to ALCC's work on water conservation in the landscape. Future initiatives may influence requirements to have Landscape Industry Certified Technicians, CITs, and a certified irrigation auditor. This pairs well with our vision for employee development, as well as sustainability and a competitive advantage.
Certification helps LandCare be better by nature.
Eric Haugen is a Landscape Industry Certified Manager at Landcare Management.
Read more in this issue:
Houzz study offers insights on landscaping trends
New OSHA rule regarding silica dust exposure
How a recession helped a seasonal business build a year-round working crew
Hiner Landscapes, Inc. receives The ELITE Award for Innovation