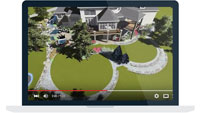 Hiner Landscapes Inc. may not have invented 3D design, but they have pioneered a design process that takes full advantage of its capabilities to give the customer a positive and informative experience. Their ground-breaking efforts earned them The ELITE Award for Innovation from Associated Landscape Contractors of Colorado this year.
Using several software programs together, Hiner is able to create a photo-realistic, animated fly-through video of a design concept. It illustrates the design in a way that 2D cannot, and the response among clients has been excellent.
Multiple instances of confusion and misunderstandings over design concepts had led to several revisions and, in some cases, hesitance on the part of the client to purchase the installation. Hiner knew that there must be a better way to communicate with customers, so he turned to 3D.
With vivid, photo-realistic 3D design, Hiner has eliminated misinterpretation of plan view concepts. He began by using several software programs together, and the end product leaves nothing to the imagination. While the cost is greater, creating a tiered pricing structure allows clients to choose a level that fits their budget.
The video has been successful on many levels. They help sell the project and encourage repeat business, as customers are less willing to cut back when they see the full effect of the proposed design. By bringing clients to their offices to view the 3D, sound-enhanced videos, Hinter Landscapes has saved travel time and made their office into a true design center. And when a customer shows friends the impressive video, it acts as a calling card for the business.
It's innovation and outside-the-box thinking that made Hiner Landscapes the obvious choice for The ELITE Award and what makes them better by nature.

This is the second in a series of stories highlighting recipients of the 2016 ELITE Awards. For more information about The ELITE Awards or to read about other recipients, click here.
Read more in this issue:
New OSHA rule regarding silica dust exposure
Houzz study offers insights on landscaping trends
How a recession helped a seasonal business build a year-round working crew
Better by nature: Certification is part of LandCare's mission