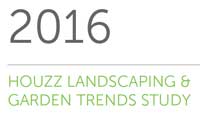 Nine in ten outdoor renovators are substantially updating their yards, according to the 2016 U.S. Houzz Landscaping Trends Survey. The survey includes insights from nearly 1,000 U.S. homeowners using Houzz who are in the process of, are planning, or who recently completed an outdoor project.

Homeowners are updating major features such as outdoor systems (82%), beds and borders (80%) and structural elements (72%). Due to the significance of these projects, over half of outdoor upgraders are enlisting the help of a landscape contractor, architect and/or designer for their projects (52%).
"Nearly half of outdoor renovators spend six or more hours a week in their yards, motivating them to invest in major features that transform the outdoors into additional living spaces," said Nino Sitchinava, principal economist at Houzz. "Hardy plants, LED or solar lighting, and hardscapes in place of lawns are some of the popular low-maintenance choices. Some homeowners are also installing motion-sensitive lighting and precipitation-sensitive irrigation to minimize routine upkeep."

Drainage and lack of privacy are top challenges among outdoor upgraders across the country. Water shortages are a unique concern for those in the West (46%). One in five homeowners upgrading outdoor spaces is adding or upgrading rainwater harvesting systems (18%), in line with 2015 findings, with rain barrels as the most common collection method (78%). Reducing the environmental impact on the home/garden is the primary reason for rainwater harvesting (70%), followed by reducing runoff, erosion or flooding (48%) and reducing water bills (40%). The vast majority will use the harvested rainwater for landscape irrigation (91%).

While outdoor updates for children and pets are both popular, upgrades for furry friends come first – 42% are making pet-related upgrades vs. 33% making updates for children and grandchildren under 18. Top updates for cats and dogs include a space to run and play (35%), toxin-free plants (24%), fenced-off areas (20%) and paths for exploring (13%). Practical upgrades are popular for kids, including room to run and play (35%), edible plants (24%) and a fence around the yard (19%). New and upgraded recreation and lounging features are also common, including hammocks, play/climbing structures, and trampolines.

Additional findings include:
Timing is Everything – The deterioration of outdoor elements and a recent home purchase are top triggers of outdoor upgrades. Yet many wait until the right moment, such as having the finances or time.
Projects Span All Budgets – When it comes to minor projects, the majority of homeowners budget or spend less than $5,000. For complete outdoor overhauls, over two in five budget or spend $20,000 or more.
Craving a Stylish, Low-Maintenance Space – In terms of design, homeowners value an outdoor space that complements the style of their home, promotes outdoor living, and is stylish and beautiful. Top functional aspects are a yard that is easy to maintain, easy for the entire family to enjoy, and easy to entertain in.
Illuminating the Outdoors – More than half of outdoor upgraders tackle lighting during their project, with LED options growing in popularity. Lighting to enhance outdoor decor and comfort comes ahead of safety, curb appeal and security.
A Plethora of Plants – Homeowners are planting even more greenery in their 2015-16 projects than in 2014-15, likely due to more favorable winter weather conditions. New plantings tend to be low-maintenance and flowering.
You can download the full 2016 U.S. Houzz Landscaping Trends Study at http://info.houzz.com/rs/804-JLJ-529/images/2016HouzzLandscapingStudy.pdf.
Read more in this issue of Colorado Green NOW:
ALCC remembers the late Dave Nelson with volunteer service award
The ELITE Awards recognize the best in Colorado's landscape industry
OSHA delays enforcing crystalline silica standard
Colorado shines at National Collegiate Landscape Competition