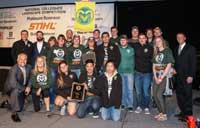 National Association of Landscape Professionals hosted its 41st annual National Collegiate Landscape Competition in March at Brigham Young University. Colorado State University placed 3rd overall among 60 participating colleges and universities.
CSU student Kelsie Cady, a 2017 recipient of an ALCC scholarship, appeared on the "Superstar Report," placing 13th among the more than 1,000 students at the competition. She placed first with a perfect score of 100 in Interior Landscape Design.
Jorge Solis, a 2016 ALCC scholarship recipient from CSU, placed 4th in Interior Plant ID with a score of 97.50.
Other top-ten performances from CSU include:
8th & 10th in Annual & Perennial ID (Adrian Bailey & Jason Shimmel)
8th in Computer Aided Landscape Design (Adrian Bailey)
5th in Employee Development (Kelsie Cady and Paul Koenning)
8th in Exterior Landscape Design (Jessika Gill)
8th in Irrigation Assembly (Charlott Li and Jorge Solis)
9th in Irrigation Troubleshooting (Andrew Sameshima and Brett Throgmorton)
2nd in Landscape Lighting (Cammie Franklin)
2nd in Small Engine Repair (Jordan Salisbury)
4th in Turf & Weed ID (Mike Schleining)
8th in Wood Construction (Adrian Bailey & Jordan Salisbury)
10th in Woody Ornamental Plant ID (Kelsie Vantresse)
See the full results at https://www.landscapeprofessionals.org/collegiate-landscape-competition/collegiate-landscape-competition/final-results.aspx.
Read more in this issue of Colorado Green NOW:
Houzz releases landscape trends research
ALCC remembers the late Dave Nelson with volunteer service award
The ELITE Awards recognize the best in Colorado's landscape industry
OSHA delays enforcing crystalline silica standard