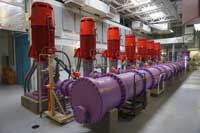 During the next three-year drought, sprinklers will be running and golf courses, parks and commercial sites within the City of Westminster will be green, say officials. Their reliance on nonpotable water per the city's strategic water plan will ensure their lawns stay green when parks and play areas in neighboring cities are brown.
"We will have green areas because we are a sustainable landscape community," says Sharon Williams, senior projects engineer with the City of Westminster. Relying on reclaimed water for landscape use, she says, "is drought resistant because it's always available. Westminster keeps water development on pace with land development and every drop we reclaim and put in landscapes is water we don't have to pull out of the potable system."
What's more, non-potable water is cheaper. Water rights for Westminster are worth an estimated $1 billion. Reclaimed water costs about 10 percent of that figure or equates to $100 million in value, says Williams. "It's simply more economical to use this water than to buy more water at current water rates." Relying on reclaimed water puts the city in an enhanced position for water availability at community build-out, still some years ahead, in addition to ensuring sufficient irrigation during times of drought.
The reclaimed water supply is currently available for landscape use mid-April through mid-October with exact start and stop dates based on the weather in each growing season. The state health department regulates centralized reclaimed water use by municipalities and reclaimed water is not available to single-family homeowners. The 100-plus customers served by Westminster's reclaimed water supply include the city's own parks and golf courses plus three Jeffco schools, Front Range Community College, Circle Point office complex, Digital Globe, St. Anthony's Hospital North and a few shopping centers, HOAs and other sites.
How safe is reclaimed water?
According to John Pinkston, lead plant operator of the Big Dry Creek Wastewater Treatment Facility, the water looks like normal tap water, but the taste is not particularly good. The water quality is on a par with swim beaches and if you gulp a mouthful, you might be at some risk. Nevertheless, Westminster's reclaimed water has tested safer in terms of e-coli ratios than either Chatfield or Cherry Creek reservoirs.
Centralized treatment, say the Westminster pros, offers more scrutiny and quality control than de-centralized graywater treatment options such as what the City of Denver recently approved for future development. In the real world, dual systems of potable and graywater on a building carry high risks. When old plumbing codes meet up with the human factor, mistakes inevitably occur and ensuring the separation of potable and graywater can be a challenge. In a centralized reclaimed water system, pipes and irrigation lines must be purple.
Experts rule
Westminster's facility is run by a team of experts and specialists in water quality. Their distribution system is maintained and operated by professionals at every step along the way – even at the point where water running out of purple pipes sprays lawns. According to Williams, irrigation techs on a site don't expect to meet a city employee who knows irrigation and talks their language. Westminster is somewhat unique in that their plan specified hiring a trained and certified landscape professional to be the liaison with reclaimed water customers. They wanted an industry expert who could talk shop, guide, train or even overrule the techs who work on systems on reclaimed water sites.
Bret Eastberg, CLT, is Westminster's official industry liaison with landscape companies and their irrigation techs. An industry veteran with several years working for American Civil Constructors, he earned the Landscape Industry Certified Technician, Irrigation, as well as Irrigation Association certifications. During the irrigation season, he tours sites that are tapped into the non-potable water system and works with landscape companies and their irrigation techs to monitor and manage water use.
"Our goal is to be one of the most sustainable cities in America," says Williams.
This story was excerpted from an article that appeared in the September-October issue of Colorado Green. To read the full article or to see the magazine's archives, visit www.alcc.com/colorado-green-magazine.

Read more in this issue of Colorado Green NOW:
What are your big goals for 2017?
3 resources to improve your productivity
Greenery is 2017's Color of the Year
Better by nature: How two firms collaborate to cut time, travel and hassle