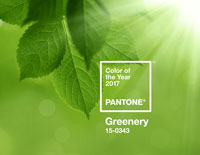 Pantone© 15-0343 might not mean much to anyone outside the design department of a landscape company. But its less technical name will be familiar to all: Greenery. Named the 2017 Color of the Year by the Pantone© Color Institute, the color evokes images of the plant material used by the landscape industry to beautify the built environment.
"Satisfying our growing desire to rejuvenate, revitalize and unite, Greenery symbolizes the reconnection we seek with nature, one another and a larger purpose," says Leatrice Eiseman, the executive director of the Pantone Color Institute. "The more submerged people are in modern life, the greater their innate craving to immerse themselves in the physical beauty and inherent unity of the natural world."
The color was chosen after much research, during which Pantone noticed a recurring theme of greenery in fashion, graphic design, food, and even car design. Just as a word of the year recognizes a term that is rising in popularity, Color of the Year recognizes a color that began trending over the previous twelve months and shows promise for the coming year.
For 17 years, Pantone's Color of the Year has influenced product development and purchasing decisions in multiple industries. The impact of Greenery's Color of the Year status is yet to be seen, but the company has made many recommendations for its use across disciplines. Regarding home décor and architecture, they recommend "open spaces in interior and exterior design and floor-to-ceiling windows allow the green outdoors to become part of a room's backdrop and ambiance."
The company also suggests incorporating this influential color through living walls and terrariums. "Bringing the outside in, the shade - like the plant life it represents - can improve self-esteem, reduce anxiety and heighten awareness of one's surroundings."
It seems that the design world is finally in sync with what the green industry has always known: nature, and things that allow us to view nature, can have a tremendous impact on our health and well-being.
Read more in this issue of Colorado Green NOW:
What are your big goals for 2017?
Why Westminster is tapping in to reclaimed water
3 resources to improve your productivity
Better by nature: How two firms collaborate to cut time, travel and hassle