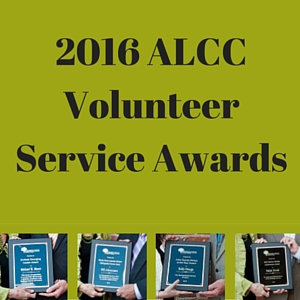 ALCC recently presented four volunteer service awards to outstanding members in the Colorado landscape industry. The awards were given at an evening ceremony at Mile High Station in Denver, in conjunction with The ELITE Awards on March 16.
Each year, ALCC recognizes special industry members have demonstrated tremendous volunteer service. These individuals have gone above and beyond the call of duty to serve the Colorado landscape industry. They have shown integrity in their work and provide an example of how to best fulfill your job duties while raising the bar for colleagues.
This year's volunteer service award recipients are:
· Ralph Bronk (Mountain High Tree Lawn & Landscape Care) – Bob Cannon Lifetime Achievement Award
This lifetime achievement award recognizes longtime service, commitment, loyalty, dedication and contribution to the landscape industry and ALCC. Through his decades in the industry, Bronk has helped improve the professional image of the industry through his work and through appearances on local media.
· Kelly Gouge (Swingle Lawn, Tree & Landscape Care) – John Garvey Person of the Year Award
As the name suggests, this award is given to one who has demonstrated tremendous dedication to the landscape industry over the past year. Gouge's entire family was on hand to watch as ALCC thanked him for his tireless efforts with the pesticide applicator act sunset and reauthorization were tremendous, as well as his work as president of the ALCC State Board.
· Michael Moore (Diggable Designs) – Outlook Award for Emerging Leaders
The Outlook award celebrates a young person (under 40) in the landscape industry and ALCC who has made a significant contribution to the industry, his/or company and/or ALCC, in a volunteer or leadership capacity. Moore accepted the award with his family and business associates there to cheer him on.
· Bill Johannsen (C&C Sand and Stone Co., Inc.) – Stanley Brown Associate Member Distinguished Service Award
Established in 2008, the Brown award is presented to an individual associate member who has helped make the industry more professional, or promoted professionalism to the public and other industry stakeholders, has held a variety of volunteer positions in ALCC, is known for outstanding association service and the contribution of ideas, programs, and/or educational endeavors and who has been a loyal supporter of ALCC and Colorado's landscape industry. Johannsen is an inspiring and resourceful leader who is more than a supplier—he's a friend to the customers he serves and a supporter of the industry.
This article beings a five-part, monthly series about ALCC's volunteer service award winners. Coming next month: a profile of Kelly Gouge, 2016 John Garvey Person of the Year.
Read more in this issue of Colorado Green NOW:
Colorado landscape industry discusses model ordinance possibilities
2016 ELITE Awards presented by ALCC
CSU shines at National Collegiate Landscape Competition
Help needed to simplify Colorado sales tax