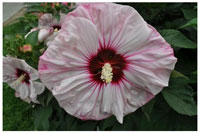 Over 233 varieties of perennials were evaluated for their performance in the High Plains and Rocky Mountain Region in the 2016 Colorado State University Perennial Flower Trial Garden. The research was conducted at the trial garden, next to the University Center for the Arts. The test garden is open to the students, industry personnel and the public for viewing. It also serves an educational purpose, giving visitors ideas and information about new plant varieties released.
Learn more about some of the top performers below. To read the full report, visit the flower trial garden website. http://www.flowertrials.colostate.edu/trial_winners.php?year=2016&category=Perennial
2016 "Top Performer" Perennial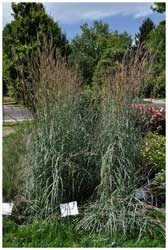 WINDWALKER® Big Bluestem from Plant Select® (Andropogon gerardii 'P003S') - shown left
This is an ornamental grass with great multi-season interest with beautiful soft blue foliage that changes to a dark maroon lavender that persists even into the winter. The plant adds impressive height to the border with a narrow growth habit that reaches about 6' tall. This is a great choice for a xeriscape area, as it can thrive with little or no supplemental irrigation. Avoid overhead watering and over-fertilization to maintain compact plants and prevent lodging.
Alexander's Great Brunnera from Terra Nova Nurseries, Inc. (Brunnera macrophylla 'Alexanders Great' PP25,789)
This is a unique Brunnera of "monster" growth proportions which is an excellent choice to add structure to the garden. The large size also helps show off the heavily silvered leaves resulting in a dramatic statement for the garden. It makes a great foliage plant for shady areas but also has a good display of blue flowers that creates a light, airy appearance. It can be used as a very attractive groundcover that is about knee high, but also makes a striking specimen. This is one of the few perennials that was selected for the "Too Good to Wait" award in 2015 and did not disappoint during the 2016 season. Make sure to give this plant ample space to show off its naturally uniform mounding habit and beautiful flowers.
Forever Purple Coral Bells from Terra Nova Nurseries, Inc. (Heuchera 'Forever Purple'PPAF)
Aptly named, Forever Purple's leaves are a deep, rich purple color that is maintained all season without fading. The best and most vibrant purple leaved Heuchera currently on the market sports glossy foliage that seems to make the color "bounce" off the leaf. It is grown mostly for attractive foliage which also has fluted edges. Plants have good vigor and a very uniform growth habit. It would make a great choice for shady areas or combos.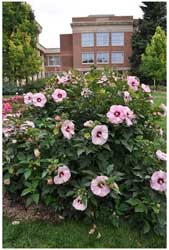 Summerific® Cherry Cheesecake Rose Mallow from Walters Garden/Proven Winners (Hibiscus x 'Summerific® Cherry Cheesecake') - shown left
Saucer-sized flowers are a stunning contrast of rich cherry-red and bright white which gives a very tropical or exotic feel to the landscape. This selection is rated highly for its ability to produce huge flowers evenly over the entire plant. Plants are very uniform and healthy with foliage that reaches all the way to the ground. Be patient with this hibiscus as it comes up very late in the spring, but is well worth the wait when the showy flowers start to open in late July.
Class of 2015 - "Too Good to Wait" Award
The Perennial Trial Garden Sub-committee likes to award the 'Top Performer' designation to superior plants that have been in the ground 2 winters and 3 growing seasons. This category is to acknowledge an upcoming plant that has been in the ground one winter and two growing seasons and shows excellent performance thus far in the trial. The following plant impressed the Perennial Trial Garden Sub-committee so much that they designated the category name: "Too Good to Wait Performer".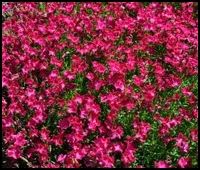 Kahori® Border Pink from Bartels (Dianthus 'Kahori') - shown right
Prolific blooms cover the plants at peak bloom and creates a mat of vibrant pink flowers. This entry is superior for a long period of bloom and exceptional uniformity. It looks great in ground beds and would make a beautiful border, but is a great choice to use in containers since it is always in bloom. This selection remains very compact and has great heat tolerance during the peak of summer temperatures.
Read more in this issue of Colorado Green NOW:
ProGreen EXPO keynote presents "The Spark, the Flame and the Torch"
Know IRS changes for employees and employers
Making and keeping resolutions for your business in 2017
How are you dealing with dust in Fort Collins?