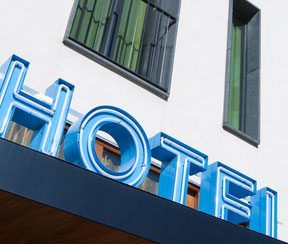 Hotel scams are on the rise, and consumers are reminded to be careful about how they book their accommodations.
There are different types of hotel scams, but two appear to be cleverly disguised and have netted scammers a portion of the $1.3B that was lost to deceptive online booking sites.
In one scenario, a scammer contacts industry members regarding an upcoming conference or event. The caller often claims to work for the event's organizers. An unsuspecting consumer might then give their payment information to the bogus representative, then arrive at the event to find they do not have a room reserved or that they did not receive the rate or amenities promised.
Colorado green industry professionals have already received calls of this sort, from a person claiming that hotels for ProGreen EXPO are nearly sold out. The caller was not affiliated with ProGreen EXPO or its organizers in any way. In fact, preferred hotels for the conference had not yet been named when the calls were made.
In another type of scam, fake web sites that look like popular travels sites can take advantage of travelers. When a web site appears on a small screen such as a smart phone, it can be difficult to tell the difference between the real and fake sites.
Some sites merely make the reservations but do not include special accommodations (such as access for the disabled or an extra cot in a room). But others may charge more than the advertised rate and/or not make a reservation at all.
Whenever making travel reservations, it is recommended that you call the hotel directly. Make calls or access the hotel's web site by typing the number or web site yourself. Clicking on a 'call now' link or hyperlink from a different web site (other than the link from the event's official web site) could lead you to a scammer's phone or site. Using a desktop computer instead of a smartphone can also help you better see the page to insure that you are on the correct web site.
After you've booked your room (but before you travel to your destination), call the hotel to confirm your reservation to avoid any unpleasant surprises at check-in time.
If you are planning to attend ProGreen EXPO, know that ProGreen organizers do not make hotel reservations on your behalf and will not call attendees about travel plans. If you receive such a call, do not give your information to the caller. Simply end the call and contact the hotel directly to book.
Read more in this issue of Colorado Green NOW:
Hotel scams target business travelers
IRS requests Social Security numbers for insured dependents
ALCC members recognized at EPA WaterSense Awards
America Recycles Day coming up