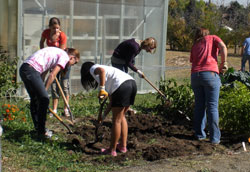 Bringing young people into the landscape industry through high school classes and real-world internships is underway in two Front Range high schools. More schools are ramping up with interest, and teachers are seeking industry input. ALCC volunteers will provide Irrigation 101 training to teachers from around the state in January, and teachers we have met can't wait to get started. Here's what's happening at Green Mountain and Platte Valley high schools.
Walking into meetings at Green Mountain High School (Jeffco Schools) and at Platte Valley High School in Kersey, we found three educators and one principal with contagious excitement not only about bringing landscape-related studies into their schools – but sending students out with the job skills to be employed upon graduation, if not before.
At Green Mountain, the principal's eyes lit up when she heard ALCC volunteer Lauren Bloom, Bloom Concrete and Landscaping, Lakewood, describe how she came into the industry through a similar program. The principal and instructor were also thrilled to hear Lauren lives in the neighborhood – and will be on hand as a resource whenever they need her.
At Platte Valley, which is located in the small town of Kersey east of Greeley, both teachers who met with Dave and Cara Doyle, Summit Lawn & Landscape, Fort Collins, told us they want all the help ALCC and the Doyles can give them to get landscape classes rolling next semester. They are about to build a greenhouse and immediately tapped into Dave's expertise in this area. They also booked Dave and Cara to speak to their classes the following week.
Last week, educators came to Emerald Isle Landscaping (EIL), Denver to see life-size irrigation components that the EIL team condensed into a tabletop display of an irrigation system, from backflow all the way down to heads and drip emitters. Their prototype will become an "Irrigation System in a Box" that teachers will assemble and take home with them after a training hosted at EIL in January.
ALCC's Career Pathway Program is barely a year old and already high schools like these two want to be involved. The program launched in November 2014 when about 40 company leaders met with the community college system's Career and Technical Education (CTE) liaison Michael Womochil and interested educators. Earlier this year, ALCC focus groups led by Womochil created a pathway or career ladder showing industry entry points and the upward mobility through the variety of jobs available within the landscape industry.
As programs become established in the schools, they will rely on ALCC volunteers to serve as advisors and to provide real-life exposure to the industry through job shadowing, internships – and possibly summer job opportunities. As the programs become established, there may be additional opportunities to get students involved in certification testing and competitive events that will further enhance the programs with added value and team pride.
Read more in this issue of Colorado Green NOW:
ALCC members win big in Louisville
What's your biggest pain point?
H-2B legislation introduced in Congress
Colorado Outdoor Water Regulation Guide & app