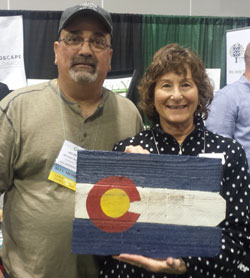 JKJ Lawn Sprinkler founder/owner Joe DiBlasi said, "I saw a flag" when he looked at an informational sign his son Joey made by cutting off part of a cast-off picket fence. "I'm always thinking about what to do to repurpose wood," says DiBlasi and yard art themed around the Colorado and US flags were the result.
DiBlasi, whose company is an ALCC Sustainable Landscape Partner, creates his yard art from 100% repurposed materials. The wood is cut from cedar fencing hauled from client's yards. The fencing would have otherwise ended up in the landfill. The hanger on the back of each flag is made from reclaimed barbless wire from a friend's ranch and the paint is also reclaimed.
Building the flags has transitioned from a hobby he and his wife enjoyed to serious winter work for the company. Initially, DiBlasi made a few flags to hand out as client appreciation gifts when installation jobs were completed. "Most of my clients are avid gardeners, and the flags were well received," he says.
During the 2015 season, DiBlasi and his wife Kelly used the flags as a good reason to get away to the mountains on weekends. They sold their flags in small craft fairs, selling out their inventory at some shows.
That success prompted DiBlasi to expand the enterprise and create winter work for his team this year. On days when they couldn't be out doing landscape and snow removal work, everyone has been building flags. The company invested in more efficient hand tools and streamlined the operation. DiBlasi, son Joey, and other team members construct the flags. Then Kelly, sometimes with help from their grandson Corbyn and the office manager Erin (Joe's sister), paints them.
This spring JKJ will have enough inventory to sell at one of the large home and patio shows in Denver. Part of the proceeds from each flag will also benefit Veterans' organizations. DiBlasi, a 22-year Navy Veteran, has consistently provided landscape services and other support to vets in need and his newest undertaking will continue that commitment to benefit those who have served.
DiBlasi says he feels good that his one-time hobby now keeps more debris from the landfill, creates winter work for his staff, serves the community and is a new profit center. He also says, "It's a nice retreat from the usual pace of work."
Read more in this issue of Colorado Green NOW:
Despite millennial growth in the workplace, Boomers are the ones spending on their homes
New workforce generation, new business model?
Do you have an employee suggestion system?
Irrigation System in a Box gives teachers hands-on skills