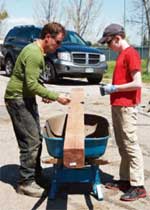 Educators tell us the typical way most students move from high school to college to careers is upside-down. But it's what kids do. They pick a school, then they pick a major and then they pick a career. After college, they end up with student debt that exceeds the cost of the highest priced Lexus.
Millennials are the most highly educated generation in our history. Yet, because of their "I'm better-than-THAT-job" attitude and their debt, they can't afford to set foot in some industries. Or so they think. Too often they end up living in their parents' basement disappointed and disenfranchised.
Career and Technical Education (CTE)—the new buzzword and growing movement within education—presents a new model. The end goal of CTE is to have students job bound and skill ready when they graduate from high school. With hands-on training gained in high school plus certification testing as they graduate, they can demonstrate at least a basic level of real-world job readiness that makes them employable.
The State of Colorado through HB-1289 legislation rewards schools with up to $1,000 for every student who gains skill training in high school that is validated by achieving an industry-recognized certification. Through this model, students can explore a career and pursue it while in high school.
And the post-graduation job isn't meant to be a dead-end one. With a career ladder in front of them, these students can see how on-the-job experience may also lead them to a point where more education is needed.
That's when community college and four-year schools come in. Under this model, young people select a school because it offers them what they need to build a career. They're not making decisions based on which school is the best party school or where their friends are going. Instead, they make school decisions based on career moves. And under this scenario, they might gain employer-paid or industry-paid scholarships.
In Colorado, Front Range Community College is exploring whether earning the Landscape Industry Certified Technician designation may qualify students to gain credit for and opt out of certain classes based on the knowledge gained through certification. If this happens, the value of being industry certified will rise to a whole new level.
Students who start down the certification pathway while in high school and complete it after gaining industry experience may gain college credit in the process. That will save tuition dollars and speed up their education.
An ALCC poll of its member-owners and leaders revealed 58 percent of landscape pros got their start in the industry in and around high school years. And 89 percent of them hold two- or four-year college degrees. As an industry, we are not an uneducated bunch. But the timing of that education in these days of escalating tuition can be strategic and cost-effective—or not.
As ALCC's Landscape Career Pathways initiative gains more traction in high schools and community colleges, the industry must be ready to support the pipeline. Are there existing employees who could benefit from a class or certificate program at a community college? Are we ready to host teachers and students for ride-alongs to see what we do? Can we offer internships to a student or two?
Through our partnership with Colorado Community College System, we are building a pipeline to bring students to us. The next step is to invite them in and reward them for selecting a model outside the norm.