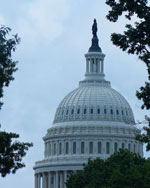 Green industry professionals will gather in Washington DC next month to meet with their legislators and discuss issues that affect the landscape industry. Legislative Days on the Hill, organized by National Association of Landscape Professionals (NALP), will take place July 16-18. This year, efforts will be focused on regulation of pesticide use, fertilizers, and the H-2B visa program.
Face-to-face contact with representatives is the most powerful advocacy tool available. Those who participate in Days on the Hill have an opportunity to let legislators know about the impact of legislation and regulations on their constituents back home.
Meeting DC legislators as a delegation from the home district demonstrates the power of strength in numbers. Grassroots efforts can go a long way to influencing local, state, and national issues. It also gives participants an look inside the government and can lead to a better understand the legislative process.
Landscape professionals who attend NALP's event can learn about advocacy from experienced industry peers and take those skills back to their local government. NALP coordinates the meetings and offers sessions beforehand to help delegations prepare, making the process less intimidating for those new to advocacy.
Colorado landscape professionals interested in participating in Legislative Days on the Hill can register online with NALP or contact ALCC at 303 757-5611 for more information on Colorado advocacy.
Read more in this issue of Colorado Green NOW:
EPA and other agencies move to rescind WOTUS
More OSHA regulation enforcement delayed
Garden builds community connections for Terracare Associates
Womochil is ALCC's Person of the Year