Friday, July 15, 2016 05:00 AM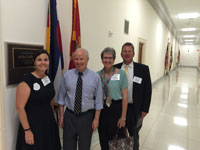 On Tuesday (July 12), ALCC members participated in the landscape industry's annual Legislative Day on the Hilland Renewal and Remembrance events. With other members of National Association of Landscape Professionals (NALP), ALCC representatives met with legislators to discuss issues that affect the industry.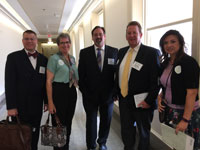 Six ALCC members, as well as Executive Director Kristen Fefes, visited the offices of eight Colorado legislators and spoke with staff. They were able to meet directly with Representative Ken Buck (R-CO 4th District), Representative Mike Coffman (R-CO 6th District), Representative Doug Lamborn (R-CO 5th District), and Representative Jared Polis (D-CO 2nd District).
Issues discussed included EPA oversight on pesticide use and the H-2B program (including the returning worker exemption).
Subscribe to ALCC LAB - Add a feed to your browser so you can keep up with posts on this blog.