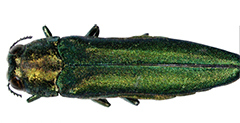 Colorado Department of Agriculture (CDA) has released an updated brochure for dealing with the threat of Emerald Ash Borer. View or print the brochure, "Emerald Ash Borer: Options for Safe Handling of Ash Tree Wood."
Colorado Green NOW spoke with Laura Pottorff, M.S., CGG about the latest information available. Laura is CDA's Program Manager (Nursery, Phytosanitary, Plant-Pest Quarantine, Seed).
Colorado Green NOW: Are there developments with Emerald Ash Borer that have surprised you? Or is it developing as expected?
Laura Pottorff: Since we only have 2 to 3 seasons of observations it's hard to draw any conclusions. Similar to the Mid-west, this pest is very hard for us to detect early. If anything, we have been surprised and frustrated with how hard the pest is to detect.
The pest has been spreading within Boulder, and we are starting to see more and more ash die. Minnesota believes the pest is moving a little slower there; however, we cannot yet say if it is doing the same thing here at this time.
What unique challenges has Colorado faced, if any, compared to EAB in other states?
I think one challenge we face here in Colorado, that other states have not, is that our ash trees show symptoms of decline from many causes due to the fact that they are under stress from climate and soils (ash are not native to Colorado). Whereas in the Mid-west where ash is native, it is rare to see symptoms of decline unless related to EAB. That is the opposite here. Right now if an ash is in decline it is most likely due to other factors. But that declining ash still needs to be examined for signs of EAB.
What can the public do to curb the spread of EAB?
The best thing the public can do is pay attention to their trees:
Do they have an ash tree?
Have a professional help them assess the health of the tree.
Have a plan ready for what they want to do with that ash.
But most importantly, know that pests will move in firewood. When a tree is pruned or cut down, that material should not be moved outside of their County/City. In Boulder County it is against the quarantine (by law) to move firewood and branches outside of the County so that we can curb the spread of EAB.