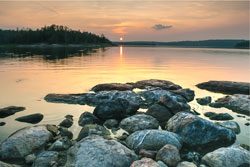 On September 4, the recent judge's decision regarding the Waters of the US (WOTUS) Clean Water Rule was revised. The ruling judge clarified that the injunction on enforcing the rule would be limited only to the states that filed a lawsuit requesting the injunction. Previously, it was believed that the injunction would be applied nationwide.

The thirteen states where the injunction will be upheld are: Alaska, Arizona, Arkansas, Colorado, Idaho, Missouri, Montana, Nebraska, Nevada, New Mexico, North Dakota, South Dakota and Wyoming.
The National Association of Landscape Professionals (NALP) issued the following statement, urging constituents, including Coloradans, to contact their Senators:
Congress returns on Tuesday, Sept. 8, which means there is an opportunity to pass S. 1140, which if passed, and signed into law by President Obama, would require EPA to rewrite many aspects of the rule including definitions of adjacency, significant nexus, tributaries and what constitutes a ditch.

In the meantime, NALP is continuing to vigorously push for relief from Congress. Thanks to everyone who took the time to call their Senators in support of Federal Clean Water Protection Act (S.1140). There are presently 43 cosponsors of the bill with some Democrats signing on.

The Senate leadership has said that it will not bring the Federal Clean Water Protection Act (S. 1140) to the Senate floor unless there are 60 confirmed votes for the measure. In order to reach the 60-vote threshold, we are focusing our grassroots efforts of the list of Senators below.

If you live in Colorado, Maine, Michigan, Minnesota, Missouri, Montana, Pennsylvania or Virginia, please continue to call your Senators at their district offices and ask for their support of S. 1140. District office contact information is below, as are some talking points for your conversations. Thank you for all of your assistance.

Senator King (I-ME) 207-622-8292
Senator Tester (D-MT) 406-252-0550
Senator McCaskill (D-MO) 417-868-8745
Senator Warner (D-VA) 804-775-2314
Senator Stabenow (D-MI) 313-961-4330
Senator Casey (D-PA) 215-405-9660
Senator Bennet (D-CO) 303-455-7600
Senator Franken (D-MN) 651-221-1016
Senator Klobuchar (D-MN) 612-727-5220

Some suggested talking points:

Please co-sponsor the bipartisan Federal Clean Water Protection Act, S. 1140. The final Clean Water Rule would have a profound and significant impact of professionals to protect public and private property near water from harmful pests, as well as their ability to install plants and other landscape features.
The rule creates a great deal of confusion and potential liability for lawn care and landscape professionals about whether or not permits are needed working on landscapes with certain water features.
New information has been released that shows the Army Corps of Engineers believes this rule is "legally vulnerable, difficult to defend in court, difficult for the Corps to explain or justify and challenging for the Corps to implement." These concerns highlight the importance of Senate action on S. 1140.
Previously on the LAB:
EPA's clean water rule halted
WOTUS final rule faces multiple lawsuits
What is a WOTUS?