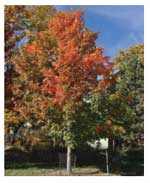 In addition to the usual factors for tree selection, such as cold hardiness, soil tolerance, water needs and mature size, species diversity should be a critical consideration. To create species diversity, plant no more than 10 percent of any single species, 20 percent of any genus and 30 percent of any family, especially in larger landscape settings.
Colorado State University continues its woody plant evaluation research, collecting data yearly. Consider the following eight woody plant species to add more tree diversity in your urban application.
Acer saccharum ssp. Caddo - Caddo Sugar Maple
This subspecies of sugar maple appears more tolerant to our alkaline soils with little to no chlorosis. Darker green leaves are more leathery, tearing less in the wind, and fall foliage is red to orange to yellow. It grows to about 30-35 feet in height and width. Numerous clones are available including 'Autumn Splendor' and 'Flashfire'®. Tips & Tricks: This maple's origin is Caddo County, Oklahoma making it more tolerant to our alkaline, higher pH soils. Zone 4-5, adapts to part shade, requires more moisture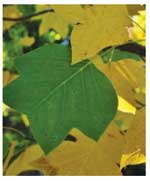 Liriodendron tulipitera 'JFS-Oz'- Emerald City® Tuliptree
Emerald City has an upright- oval growth habit with sturdy branching and strong open angles. It has glossy, dark green leaves that are tulip shaped and turn bright yellow in fall. The yellow-green flowers with an orange center appear after the leaves emerge. The tree grows to about 45 feet in height and 20 feet in width. Tips & Tricks: This plant can be used as a street or shade tree, or for screening. It may develop some chlorosis depending on pH of soil. Zone 5, full sun, requires more moisture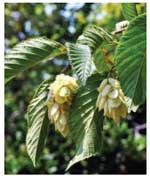 Ostrya virginiana - American Hophornbeam
This handsome, pest resistant, smaller tree performs well in urban settings and is tolerant of alkaline soils and drought. Dark green leaves turn yellow in the fall. This is an understory plant that can tolerate sun. It grows 35-40 feet in height and 25 feet in width and it is somewhat slow to reestablish after transplanting. Tips & Tricks: Hop-like fruits and finely serrated hornbeamlike leaves give this adaptable tree its name. Zone 4, adapts to part shade, Xeric
See more top performers in the May-June 2018 issue of Colorado Green magazine.