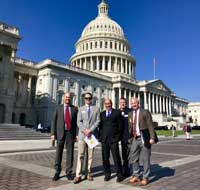 On November 2, 2017, a delegation of 20 Colorado H-2B users met with their representatives during H-2B Advocacy Day on Capitol Hill. The group met with the offices of: Senator Cory Gardner, Senator Michael Bennett, Rep. Ken Buck, Rep. Mike Coffman, Rep. Diana DeGette, Rep. Doug Lamborn, Rep. Ed Perlmutter, Rep. Jared Polis, and Rep. Scott Tipton.
The message was simple: As Colorado's economy grows, so does the demand for labor. Employers use the H-2B visa program to fill the labor gap and continue running their businesses. Without H-2B workers, employers simply can't provide services to all of the American consumers who need them.
In some cases, landscape companies have had to lay off US workers because they cannot complete their crew. And when cap relief was granted, it was too late in the season for most employers to recover. The Colorado delegation asked legislators to preserve the H-2B program and increase the cap to allow more employers to find the workers they need. They lobbied to put H-2B cap relief into the December omnibus budget.
Additionally, ALCC is actively seeking new strategies for H-2B reform, including stronger collaborative efforts with similar states. That effort, along with a strong delegation of advocates and a successful effort last week, suggests that Colorado can have a significant impact going forward.
Participating landscape companies at Advocacy Day included:
Arrowhead Landscape Services, Inc

BrightView Landscape Development

JBK Landscape

Keesen Landscape Management, Inc

Lifescape Colorado

Southern Exposure Landscape & Sprinkler, LLC

Singing Hills Landscape, Inc.
Read more in this issue of Colorado Green NOW:
Goodbye I-9? Legal Workforce Act would require E-Verify
Clearing up confusion about advertising with ProGreen EXPO and Colorado Green
Emerald Isle Landscaping celebrates 40 years
Is the key to employee retention treating them like customers?