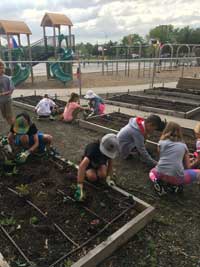 The gardens at William Roberts School, in Denver's Stapleton area, were recharged with the help of industry volunteers during ALCC's Day of Service in 2015. That day, the Denver Chapter built 12 new edibles beds, renovated two existing edibles beds to make them wheelchair accessible, and planted a native and low-water demonstration garden. The edibles gardens were to be used as an outdoor teaching lab for part of the school's curriculum. Each student grade level has adopted and is caring for a bed, and all students tend the dedicated garden of the principal.
Spring forward to Earth Day in April 2016, exactly a year later. The school hosted a schoolwide garden weeding and preparation day for the 14 beds. Just a few weeks later in May, the school held Field Day, a day of fun and physical activity, and the Health, Wellness and Garden committee manned a planting and smoothie station. Throughout the day, students from preschool to sixth grade weeded and planted vegetables and flowers in all the beds with the assistance of volunteer middle school students. Alia Chiappella, parent and volunteer, says, "The event was such a great success that the school intends to make it an annual event."
Chiappella was the contact person among the parent's group who coordinated the school's Day of Service with ALCC last year and has been the ongoing contact for the gardening effort. She helped coordinate care for the garden during the summer break. Families of students adopted the garden in one week increments, weeding, monitoring the irrigation system and harvesting produce as it became available.
The garden project has led to a schoolwide curriculum that includes planting, growing, harvesting and using food. Each year, the harvest will be put to good use both in the school cafeteria and the school's food pantry, which is shared with families in need within the community.
This article appeared in the September/October 2016 issue of Colorado Green magazine. ALCC members can access magazine archives online at www.alcc.com/colorado-green-magazine.
Read more in this issue of Colorado Green NOW:
Interns and apprentices help grow the industry
Why and how to use a safe harbor provision in your handbook
Industry stance on upcoming ballot issues
DOL cracks down on H-2B users over first line supervisors