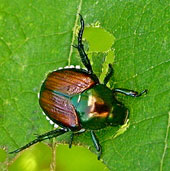 This past September, the Colorado Department of Agriculture (CDA) issued a proposal of changes to the current regulations surrounding the threat of Japanese Beetles (JB) to nursery stock. This invasive species has been located in parts of metro Denver, Boulder, Pueblo, and various nurseries and sod farms, but the majority of Colorado is not yet infested.
In an effort to thwart the spread of JB to the rest of the state, CDA is urging commercial nurseries, landscape contractors, and garden centers to abide by an internal quarantine along the Colorado Front Range. External quarantine helps present JB from entering the state via nursery stock, but moving plants and soil within the state could spread the pest to non-infested areas. The Internal Quarantine Area would include Adams, Arapahoe, Boulder, Broomfield, Denver, Douglas, El Paso, Jefferson, Larimer, Pueblo and Weld Counties.
If the internal quarantine is enacted, nurseries within the quarantine area must outline for CDA how they will manage critical control points and best management practices for preventing the spread of JB. CDA will also inspect those facilities to verify that the nursery is following a proper JB management program and documenting actions taken. Nurseries must also record pesticide applications taken with regards to JB control, and document all import of nursery stock.
CDA has asked ALCC members to give feedback by October 31 on the proposal.
Read the full proposal: "Proposed Japanese Beetle Quarantine of Front Range Counties in Colorado using Best Management Practices/Systems Approach to Nursery Certification"
Read more in this issue of Colorado Green NOW:
Hotel scams target business travelers
IRS requests Social Security numbers for insured dependents
ALCC members recognized at EPA WaterSense Awards
America Recycles Day coming up