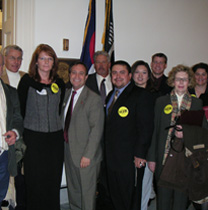 ALCC/GreenCO Advocacy


Other than the weather, nothing affects your business more than government. Whether water law changes, new fees for business or vehicle registrations, immigration or workers' compensation mandates, ALCC watches this information at the state capitol and in Washington, DC.
Through GreenCO, ALCC advocates for members and the industry at the state legislature. Following are the 2016 legislative priorities.
Read the final report on the 2016 Colorado legislative session.
Read an analysis and the impacts of the pertinent legislation that was passed into law.
ALCC & GreenCO 2016 Legislative Priorities (Follow them in real time at www.coloradocapitolwatch.com)

Water
Support funding and innovation of Colorado water

needs

to include conservation, water infrastructure, reuse, and storage, (See GreenCO White Paper). Make water funding a major priority in Colorado.

Review Interim Committee bills for 2016 session to include possible Rain Barrel Bill.

Support sustainable water conservation principles for both indoor and outdoor use to include industry Best Management Practices (BMPs). GreenCO's BMPs are supported by the state as the standard for outdoor water.

Oppose water legislation that is anti-growth.

Continue work on state water plan to ensure GreenCO principles are included for conservation, land use planning and possible regulatory legislation.
Pesticide Regulatory Legislation
Oppose any measure to allow for local control when applying pesticides.

Oppose non-research based arbitrary bans on pesticides.

Closely monitor and oppose any effort to expand pesticide regulatory burden.
Construction Defects
Construction Retainage Reform
Initiative 20- Colorado Care Ballot Issue
Investment in Colorado Businesses
Continue work on legislation to simplify Colorado Sales Tax- Coalition effort.

Continue to work with DOR on sales/use tax policy decisions concerning construction operations.

Review and monitor Pinnacol bill for interstate operation.

Oppose changes to the state workers' compensation program that would diminish the effectiveness or efficiency of the current system

Support efforts to limit regulatory burden and create no new mandates for business

Support the creation of tax credit/incentive for BPPT for small businesses to phase out or eliminate the fiscal impact of this regressive tax on Business.
Investment in Colorado Infrastructure
Support investing in Colorado's infrastructure. From buildings, roads and bridges, and water projects, monetary investment will help create jobs and save the state millions of dollars in the future.
Transportation
Support funding for transportation thru prioritization of new and existing revenues to stated needs.

Support maintenance/replacement of roads and bridges
Uniform Sales & Use Tax Definitions
Education
Read the legislative tracking report and see the specific bills we are following.