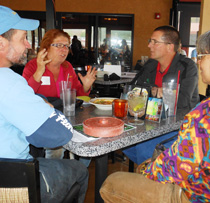 Sometimes two heads (or three or 10) are better than one. Sometimes the best teacher is a colleague who has been where you are. The following are a few member resources that will help you take advantage of one of the most valuable member benefits: other members! Tap into the knowledge and expertise of the industry while building relationships with like-minded landscaping professionals.
Attend the happy hours and programming events that are scheduled throughout the year. Visit our online calendar to find an upcoming event in your area.
Hear from ALCC's Board President
Every month the ALCC President chimes in on the direction of the association and the industry. Tune in and stay up to date.
Find fellow members and suppliers
Use the member directory to locate and contact fellow members. Looking for a supplier? Use the Supplier showcase to search for vendors by ZIP code, company name and/or keyword. To access a printable version of these lists, please contact ALCC at 303 757-5611.
Member Directory - You must be logged in as a current member to view this.
Mentoring Program
ALCC is seeking both mentors and mentees. If you are new to the industry, or want to take your business to the next level, sign up for the program. You will be matched with an experienced mentor. If you want to share your knowledge and give back to your industry, sign up as a mentor. Learn more
Sign up to become an ALCC volunteer
Get involved and help shape the future of the industry and the future of your business. Opportunities range from year-long commitments to project-specific or "micro-volunteering" tasks. Click on the Volunteer Sign Up form to see what's available.