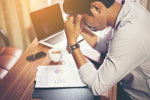 The landscape industry in Colorado is in demand, and for many, there is more work available than a business can handle. This can lead to increased stress at work, which in turn can lead to illness and lost work time.
How can you manage your stress level and keep your sanity at work, even during the busiest of times? There's no single best answer to that question. It's a matter of finding the stress relief that works best for you. But we have a few suggestions that might lead you to your perfect combination of tools.
Breathe.
Practice relaxation techniques based on regulating your breathing and focusing on yourself. Make it a daily habit, and turn to it in moments of anxiety or tension.
Say no.
Are you taking on too many clients? Accepting projects despite unrealistic timelines? Just say no. Learn to be comfortable turning down a job that is not a good fit for your company. Refer the consumer to alcc.com/find-a-landscape-pro to find another qualified company to bid on the job.
Work it out.
Exercise, whether it's a weekly high-intensity boot camp class or a daily walk around the block, can help clear your mind and calm you down. Stepping away from a stressful work situation to take a brisk walk for five minutes can make a world of difference.
Do something.
Do you go home from work only to get back on your computer or sit at home thinking about the work day? Find a hobby or pastime that will make you shift focus. Play a sport like golf or basketball. Learn to paint or make pottery. Or try a more passive pastime like watching a movie. Find whatever activity pulls you away from your stressful thoughts.
Set a timer.
Schedule stress-relief into your day. Before you get a chance to get worked up over all that needs to be done, make sure your agenda includes breaks for your favorite method of stress relief. There is no shortage of apps for your phone or computer that you can program to remind you to take a break.
Read more in this issue of Colorado Green NOW:
Snow pirates on the prowl
Local data you can use: Trees, health care and work loss
Safety Achievement Awards recognize ALCC member companies
Is the key to employee retention treating them like customers?