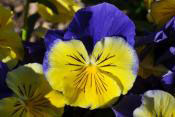 Each year, the Cool Season Trial program at Colorado State University evaluates various pansy and viola varieties for their ability to overwinter in the Northern Colorado climate. They are also judged for floriferousness, growth habit and pattern stability. Entries were planted in late October and grown until the following May. Evaluations were made in late spring.
The 2017 winners are great choices for cool weather color in the landscape.

Best of Show Pansy - 'Cool Wave Morpho' by Pan American Seed
This pansy stole the show in our trial with vibrant flower colors which were striking contrast between blue and yellow which were held up high on the plant for easy viewing. The flowers were numerous totally covering the plant which attributed to the larger spreading growth habit. The entire Cool Wave series was noted to have exceptional vigor and flower power but 'Cool Wave Morpho' was considered the best of the series.
Best Novelty Pansy - 'Matrix Morpheus' by Pan American Seed
The intense yellow and purple color of this pansy provides flower color that flourish across the whole plant with excellent coverage over all of the plant.

Best of Show Viola and Best Novelty Viola - 'Endurio Blue Yellow with Purple Wing' by Syngenta
The spreading growth habit makes this viola very attractive for borders and nostalgic looking flowers bring back the idea of old-school violas. The eye-catching blue yellow with purple wing flower color is guaranteed to make everyone feel happy. It also was designated as Best Novelty Viola.
See all of the cool season winners at www.flowertrials.colostate.edu.
Read more in this issue of Colorado Green NOW:
Demonstrate your professionalism by contributing to your industry
Drone technology streamlines large projects
Solar eclipse calls for a safety talk with crews
For your consideration: beautiful, low-maintenance perennials