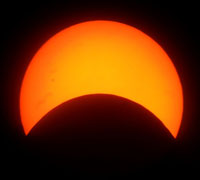 An upcoming event in outer space could affect your employees' safety. Have you talked with your crew about the solar eclipse?
In the late morning on August 21, North America will experience a solar eclipse. It has been widely discussed in the media, so your employees are likely aware of it. Many of them will be on the job at the time of the eclipse and will want to catch a glimpse of this much-talked-about event.
For the safety of your staff, it's important to discuss the best way to safely view an eclipse. With a solar eclipse, there is a risk of eye injury. But it's easy to avoid any harm by not looking directly at the eclipse without proper protective eyewear. Since the eclipse will not reach 100% totality in Colorado—though it will come close—there is no safe time to look at it without safety glasses or solar viewers.
In the coming weeks, be sure to talk with your employees—especially those who will be working outdoors during the eclipse. Make them aware that they need to protect their eyes in order to look at it. You might consider providing solar viewers or share information about how to safely view the eclipse with a pinhole projector. NASA has provided downloadable information that you can print and share, including safety information cards.
Read more in this issue of Colorado Green NOW:
For your consideration: beautiful, low-maintenance perennials
Pansies and violas offer cool-season color
Demonstrate your professionalism by contributing to your industry
Drone technology streamlines large projects