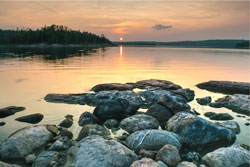 On Tuesday, the Environmental Protection Agency, Department of Army, and Army Corps of Engineers proposed a rule to rescind the Waters of the United States (WOTUS) rule and return to the language of the rule that was in place prior to the 2015 rule change. The 2015 rule was intended to clarify the definition of "waters of the United States" and to which bodies of water the Clean Water Act could apply.
According to an EPA press release, the action "would, when finalized, provide certainty in the interim, pending a second rulemaking in which the agencies will engage in a substantive re-evaluation of the definition of 'waters of the United States.'"
Many in the landscape, agriculture and manufacturing sectors interpreted the 2015 rule as having the ability to control what people can build or plant in or around streams, ponds, ditches and stormwater runoff areas, greatly expanding the scope of waters subject to the Clean Water Act (CWA) regulation well beyond the law's intent. ALCC described it as "an example of extreme government overreach that could hurt business and control what people do on their properties" and lobbied to stop the rule.
"We are taking significant action to return power to the states and provide regulatory certainty to our nation's farmers and businesses," said Administrator Scott Pruitt.
An appeals court granted a stay of that 2015 rule, so the original definition of the CSA currently applies. The new proposed rule would rescind the 2015 rule entirely.
For the pre-publication Federal Register Notice and additional information, visit www.epa.gov/wotus-rule.
Read more in this issue of Colorado Green NOW:
More OSHA regulation enforcement delayed
Garden builds community connections for Terracare Associates
Womochil is ALCC's Person of the Year
Legislative Days on the Hill brings the landscape industry to Capitol Hill