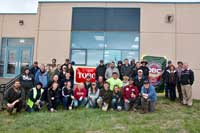 The ALCC Denver Chapter worked alongside students in the Career Pathway Program at Green Mountain High School, Lakewood. The project built upon work begun last year and will create more outdoor learning areas where students can practice hands-on landscape skills.
More than two dozen member companies participated in the project, with volunteers arriving at dawn to start work. Together they built raised planting beds, planted fruit trees, and installed paths connecting the learning stations. They also prepped an area for a chicken coop to be installed later this spring.
The program at Green Mountain High School, led by Courtney Mayo, was one of the first schools to offer a landscape course through ALCC's pathway program. In addition to supporting hands-on education with outdoor classrooms, ALCC members have volunteered their time by conducting mock job interviews with students. The interviews helped students build the soft skills necessary to land a position that can lead to a career.
Equipment and materials:
A-1 Organics
Alameda Wholesale Nursery
Atkins Tree Farm
Bobcat of the Rockies
Colorado Materials, Inc.
DBC Irrigation Supply
Diggable Designs Landscape Construction, LLC
Donald H. Godi & Associate
High Country Landscape
Jensen Sales Company
Lee Landscaping & Sprinklers, LLC
Little Valley Wholesale Nursery
Mountain High Tree, Lawn & Landscape
Schultz Industries, Inc.
Silver Sage Garden Centers
The L. L. Johnson Distributing Company
UpBeet Landscapes, LLC
Wagner Rents/Wagner Equipment
Time/labor:
Arrowhead Landscape Services
BrightView Landscape Development
Designscapes Colorado
Diggable Designs Landscape Construction
Ewing Irrigation and Landscape Supply
Gardenz
GVR Landscape
High Country Landscape, Ltd.
Lee Landscaping & Sprinklers
The L.L. Johnson Distributing Company
Swingle Tree, Lawn, and Landscape Care
UpBeet Landscapes, LLC
Western States Reclamation
Read more in this issue of Colorado Green NOW:
BrightView overcomes logistical challenges in breathtaking Gateway Canyons
Best management practices for bee health released
Benefits of networking
Volunteers build an outdoor learning lab in ALCC Southern Chapter