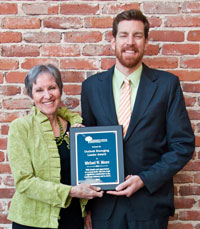 Michael Moore (Diggable Designs Landscape Construction, Lakewood) received the 2016 Outlook Emerging Leader Award from ALCC. The Colorado native grew up in Centennial and graduated from Colorado State University with a degree in landscape horticulture. After receiving his degree, he spent some time in California before returning to Colorado to establish Diggable Designs with his wife Jessica, a designer, and friend Dylan Hicks as operations manager.
Within his business, Moore is respected for practicing integrity, kindness and service. Others in the industry know him to be honest, sincere and helpful – all qualities that mark a long-term industry leader.
Since 2012 Moore has been the leader of the Denver Chapter's Day of Service. His estimating and organizational skills have driven the success of these projects. Each year, Moore has risen to new challenges while completing renovations or installations at different Denver metro area schools. And all of the projects have been successful thanks to his project management, advance planning, and calm demeanor.
In 2016, he dealt with a new level of difficulty to the Day of Service event held at Green Mountain High School by adding a teaching component. One dozen students worked side-by-side with industry volunteers, who taught hands-on skills such as proper planting techniques or how to operate a skill saw. The project moved more slowly, but at the end of the day the school had a facelift and its students had learned by being involved.
Moore says being able to serve in a community you're not a part of in your daily life is special and to do so while sharing his own skill set is a pleasure. He and his company also support community service projects beyond the annual ALCC effort.
The Outlook Award recognizes an "up and comer" in the landscape industry and in ALCC. It acknowledges an individual who is less than 40 years old and who has made a substantial contribution of effort to the industry and to ALCC, and who contributes significantly within his/her own company. Moore has certainly been an excellent example of this youthful, enthusiastic spirit that the award celebrates.
Read more in this issue of Colorado Green NOW:
OSHA final rule requires employers to submit records electronically
Communication is key in DOL overtime compliance
Pickens Tech trains for industry jobs
The ELITE Award for Maintenance: Designs By Sundown