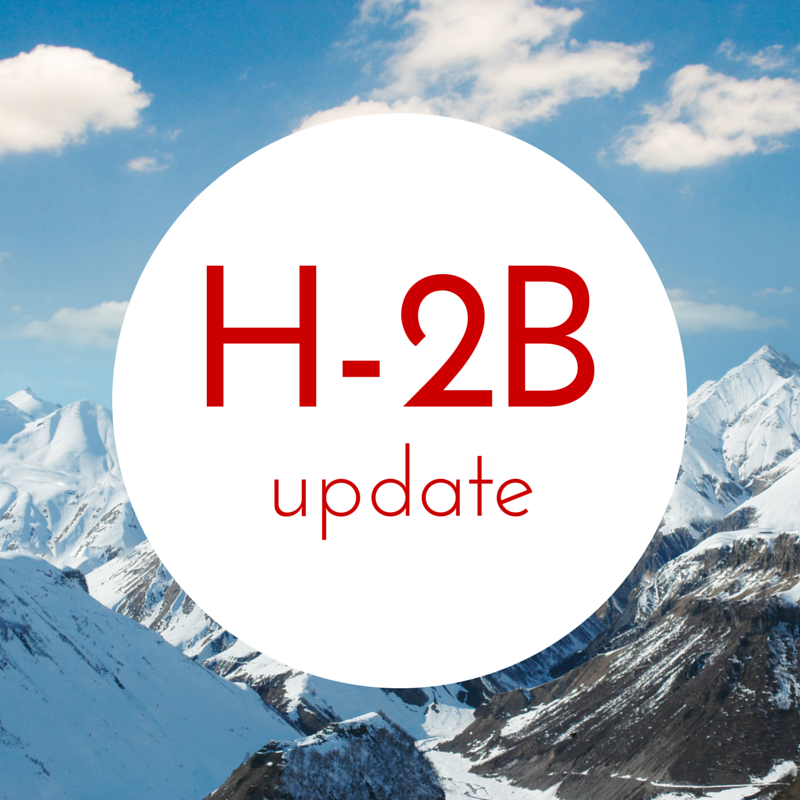 The following H-2B action request was issued by the H-2B Workforce Coalition:
Your help is urgently needed to counter negative attacks on the H-2B program. There will be a significant amount of activity in Congress this week related to the H-2B program and we need your help.


On Wednesday, the Senate Judiciary Subcommittee on Immigration and the National Interest, Chaired by Senator Jeff Sessions (R-AL), will be holding a hearing entitled "The H-2B Temporary Foreign Worker Program: Examining the Effects on Americans' Job Opportunities and Wages." We expect the chairman to use this opportunity to spread erroneous allegations that the H-2B program takes away American jobs, represses wages and that the program is fraught with abuse. To counter these charges, we hope you will do the following to set the record straight and explain that the H-2B PROGRAM CREATES AMERICAN JOBS.

What can you do from Colorado?
Please submit written testimony to Senator Tillis who will submit it for the hearing record. The testimony can be a simple statement on your letterhead or from a worker about the program and its importance to American workers. View or download a letter template
. Testimony should be emailed by the close of business Tuesday (June 7) to:Courtney_Temple@tillis.senate.gov.

Sample Tweets (you can also follow @cogreennow for sample tweets that you can simply retweet):
82% of H-2B visa workers are returning workers – proof that they are treated well. #saveH2B

The H-2B program relies on workers who come to the U.S. for seasonal work, then go home. #saveH2B

Every H-2B worker creates and sustains 4.64 American jobs #saveH2B

#SaveH2B and save American Jobs!

H-2B program = more American jobs. #saveH2B

H-2B workers support American jobs. #saveH2B
Other H-2B related activities next week
On Tuesday, June 7 at 10:30 am, the Senate Appropriations Subcommittee on Labor, HHS, Education and Related Agencies will

mark-up

the FY17 funding bill. We are hopeful that language pertaining to the Department of Labor that was included in last year's appropriations bill will once again be included in the Chairman's bill.

On Thursday, June 9,

2016

at 10:30 am, the full Senate Appropriations Committee will take up Department of Labor appropriations bill for complete consideration.

We also expect the House Appropriations Subcommittee on Homeland

Security to

soon announce plans to address the funding for the Department. We hope that the subcommittee will include again include an H-2B returning worker amendment in the legislation, but we need your help to make that happen.

If your representative is very supportive of the H-2B program, please encourage him or her to speak to Subcommittee Chairman Carter (R-TX) directly and ask him to include an H-3B returning worker exemption in the Department of Homeland Security Appropriations bill.
Thanks for your continued help to support the H-2B program.
H-2B Workforce Coalition Co-Chairs:
Laurie Flanagan, Representing AmericanHort and the National Association of Landscape Professionals

Gregg Hartley, Representing the Outdoor Amusement Business Association

Brian Crawford, American Hotel and Lodging Association
Previously on the LAB:
H-2B cap met for fiscal year 2016
Senator Bennet supports employers that use H-2B
VIDEO: H-2B in two minutes
Subscribe to ALCC LAB - Add a feed to your browser so you can keep up with posts on this blog.