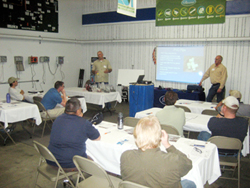 The ROI on employee education – it's more than CEUs
When you have technicians on staff and there are test dates on your calendar, it's easy to remember to send the team to ProGreen for training, testing and CEUs. But this year, there's more. "We're sending more staff to ProGreen in 2016 than we ever have," says Kelly Gouge of Swingle Lawn, Tree & Landscape Care "This year ProGreen has what we want, and we're investing in the development of our team – training for roles in addition to job skills."
There's a class for foremen and another one for account managers. And there are big-picture topics like becoming a destination company, creating culture of sustainability and attracting millennials. This is a whole new ProGreen.
Beyond the CEUs, the benefits of attending a conferences like ProGreen EXPO are greater than simply earning continuing education units (CEUs). By attending educational conference and workshops, team members learn how to grow the business as well as their own value. Having opportunities to learn and develop is what keeps people engaged, motivated and committed to their jobs. And when companies send their team to a conference, it tells people they are valued by the organization.
According to a 2015 Gallup report, "managers have the greatest impact on employee engagement." The same report shows that only "35% of U.S. managers are themselves engaged, while 51% are not engaged and 14% are actively disengaged." By giving everyone from hands-on staff to managers opportunities to learn and develop new skills, the whole team becomes more engaged, more satisfied with what they do and where they work.
Better yet, attending conferences makes us invigorated, with new ideas and fresh enthusiasm for work. And by dividing and conquering the classes among the team, everyone benefits afterwards, when each one shares their knowledge gained with the rest of the team.
Networking at conferences also helps people expand their industry relationships among both peers and suppliers. Walking the trade show is about these relationships – and also getting ideas for how to work better from industry suppliers.
Many seasoned professionals claim that the most important benefits of conferences come outside the classroom and in between sessions. Getting to know peers, meeting influential industry members and showing the world what your business is about are more than just ancillary benefits. They're a vital part of the conference experience.