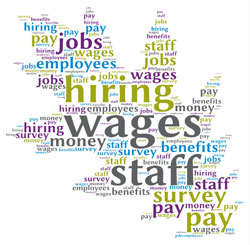 In order for a landscape business to be profitable, they need qualified, reliable staff. With Colorado experiencing a shortage of labor in many areas, the biggest challenge for many companies is finding, retaining and developing employees.
Unfortunately, the US Department of Labor has limited compensation data for specific landscape jobs.
"We know from conversations with educators, workforce agencies and the Department of Labor that they would like more reliable wage data about our real-world jobs. They have told us that this information will help their efforts to direct people to our industry," explained Kristen Fefes, Executive Director of Associated Landscape Contractors of Colorado. "By and large, the general population is often misinformed about landscape career opportunities. By providing a career path linked to income potential, landscape companies can demonstrate that the industry is one of opportunity and upward mobility. Changing public opinion is key to improving recruiting success."
To fill the gap in reliable, job-specific data for the Colorado landscape industry, ALCC has partnered with the University of Colorado Leeds School of Business to conduct a statewide wage/salary survey for positions in landscape installation, maintenance and irrigation as well as higher-level management positions. The survey will be made available in late January/early February to business owners.
The survey is designed to help landscape company owners benchmark their compensation with other companies in a similar business segment, cycle and region of Colorado.
Survey results will be published in a comprehensive 2016 Wage and Salary Report for Colorado's Landscape Industry. For more information on how you can participate in this survey, visit www.alcc.com/wagesurvey2016. Participation in the survey will improve available data, and participants will receive a complimentary copy of the report.
Read more in this issue of Colorado Green NOW:
6 strategies to strengthen your business
Designing our future: sustainable landscapes
Benefits of employee education
ACA information reporting deadline extended by IRS