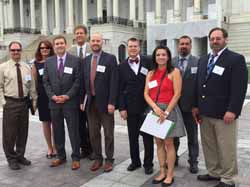 Representatives of ALCC joined other members of the National Association of Landscape Professionals (NALP) visited Washington, DC last week for the landscape industry's annual Renewal & Remembrance and Legislative Day on the Hill. Nearly 450 professionals participated in the Renewal & Remembrance day of service at Arlington National Cemetery, and nearly 100 of those participants were on hand the next day to meet with legislators.
Once again, labor issues, immigration (specifically the H-2B visa program and returning work exemption), the Clean Water Act Final Rule, and issues around independent contractor designations were are the forefront of the discussion. Pollinators and other regulatory issues were also addressed.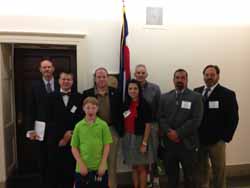 The Colorado delegation, which included ALCC and CALCP members, met with the offices of eight Colorado legislators:
Three key issues were addressed at these meetings:
As the 2nd largest user of the H-2B program, Colorado has a significant interest in reinstating the returning work exemption.
The STARS Act (S. 1809) was reintroduced this year. It would help define the status of independent contractor vs. employee as it relates to the Affordable Care Act. ALCC would like to see use of the Department of Treasury definition of independent contractor adopted by other government entities for clarity and consistency.
The Clean Water Act Final Rule is being challenged in court by states and government agencies. Additionally H.R. 1732, which seeks to withdraw the existing proposed rule, was passed through the House.
Action on these and other issues will take place in coming weeks and months. But the Colorado delegation worked hard to be sure that state representative are aware of the issues and concerns of the landscape industry.
Previously on the LAB:
Landscape professionals visit Capitol Hill today
2015 Legislative Day on the Hill