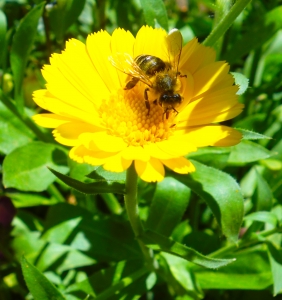 On May 19, the White House Pollinator Health Task Force released its "National Strategy to Promote the Health of Honeybees & other Pollinators." You can download or read the entire report here.
The strategy focuses on "three overarching goals:"
Reduce honey bee colony losses to economically sustainable levels;
Increase monarch butterfly numbers to protect the annual migration; and
Restore or enhance millions of acres of land for pollinators through combined public and private action.
The task force encourages everyone to get involved in this effort. Promoting pollinator health is not just a job for scientists. It is something to which everyone--individuals, communities, businesses, and government--can contribute. For this purpose, Pollinator Health Task Force is developing a Partnership Action Plan that will offer ways that we can all respond to the President's call to action.
The landscape industry is poised to be a leader in this initiative. As stewards of the local environment, we have an opportunity to help citizens support pollinators in their landscapes. ALCC looks forward to sharing resources with members and with consumers on ways to achieve this. In the coming weeks and months, visit alcc.com for information on planting pollinator gardens, working with professionals for proper use of pesticides, and creating a landscape that allows for native pollinators to thrive.