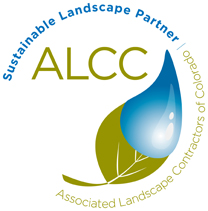 Who should become an ALCC Sustainable Landscape Partner?
If you plant the right plant in the right place, promote water saving plants and irrigation practices and reduce, reuse and recycle whenever you can, you should be a Sustainable Partner. Sustainability is not an all-or-nothing proposition. Every company that tries to go green will not do all the same things as the other company down the street.

What all Sustainable Partners have in common is their desire:
To take more steps in a sustainable direction

To learn from one another about resources and strategies and

To be more skilled in promoting the green practices they already do to educate consumers and attract more business.

Get started. Pay the annual fee to enroll and send at least one person from your company to attend two qualified Partner events. Once enrolled, there are no additional fees to attend events. Members enroll on a sliding fee scale. The larger your company, the more people you may send to each event. You may send different people to different events.

Events are offered throughout the year to help you meet the training requirement including classes at ProGreen EXPO.*
ALCC Sustainable Landscape Partners can choose from sustainability classes during ProGreen EXPO. Attend two of these sessions and meet Sustainable Landscape Partners training requirement.

Partner benefits
Partners save 20% on Tip of the Week email marketing. This discount alone will recover all or much of your partner fees.
More exclusive marketing: your firm will be listed as a Partner on www.alcc.com, may use the Partner logo for marketing and you may post the Green Strategies document on your website.

Sharing resources and networking among partners. We learn from one another.

A "Craigslist" style resource to make unused job site materials available to other partners.
Enrollment as an ALCC Sustainable Landscape Partner, like ALCC membership, is on a sliding scale based on company size. Enrollment coincides with the membership year - July 1 through June 30. You pay one annual fee to become a partner and after that fee is paid, there are no more charges. Like membership dues, the fee is on a sliding scale based on company size and that allows your company to send the number of qualified individuals (also based on a sliding scale) to every Partner event throughout the year at no extra charge. One fee and you're done. And the bigger your firm, the more people may attend partner events. You may send different people to different events.

* Companies must have at least one person attend two Partner events per year in order to maintain status as a Sustainable Partner. Again, no charge for Sustainable Partner events once you are a partner.
Become an ALCC Sustainable Landscape Partner today! Contact Becky Garber at 303 757-5611 for details.