Colorado Green NOW
Written by Lyn Dean
Wednesday, March 14, 2018 05:00 AM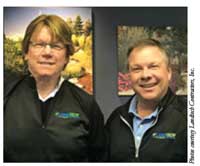 "I think we have a good story to tell," says Larry Overley, president and CEO, Landtech Contractors, Inc. "After so many years of experience, I am excited to share what I have learned and to mentor up-and-coming contractors."
Overley founded Landtech in Pitkin County on the Western Slope in 1987 with six people. Kevin Overley, the younger brother by 12 years started part-time back then while going to college in Denver and has been there ever since.
Read more...
Colorado Green NOW

Written by Steve Steele

Wednesday, March 14, 2018 04:00 AM


Over the past several years there has been a significant change in the psyche of America. Nearly all of us that live in this great nation are here because someone in our family tree emigrated here in the past from another country to make a better life for themselves and their loved ones. However, today's xenophobic assumptions that anyone who looks or sounds different from us is here illegally and stealing a job that a real "'merican" could do is not only incorrect in most cases, but also has negative repercussions for all Americans. That is why I feel compelled to tell anyone that will listen why it is critical that America's labor pool be augmented through non-immigrant, temporary worker visa programs, like H-2B, that provide workers willing to perform jobs that most Americans do not want – cleaning hotel rooms, mowing grass, and a myriad of other labor-intensive and often seasonal jobs – while at the same time raising pay and advancement opportunities for their American counterparts.

Read more...

Colorado Green NOW

Written by Cherie Courtade

Wednesday, March 14, 2018 03:00 AM

Spring officially begins next week, and consumers will begin looking for help with their landscapes. Just as you are working to build your crew and fill your schedule, you should also clean up your business's online presence so potential customers can find you.

Read more...

Colorado Green NOW

Written by Colorado Green staff

Wednesday, March 14, 2018 03:00 AM


It may seem like a stretch to connect having more urban trees to reducing work loss, but researchers are conducting experiments to connect those dots. Early findings suggest tree planting should be more front and center in municipal budgets like fire and police protection because of the tremendous impact trees have on public health.

Read more...

Colorado Green NOW

Written by Employers Council

Wednesday, March 14, 2018 12:00 AM


Did you know that the new tax bill includes a provision that could impact the tax treatment of sexual harassment settlements? It could impact your business. Learn more in a video from Employers Council.

Read more...
<< first < Prev 1 2 3 4 5 6 7 8

9

10 Next > last >>


Page 9 of 92