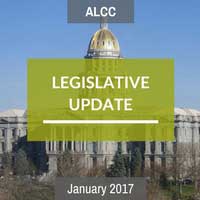 Report from Hicks & Associates on the opening day of the 71st Colorado General Assembly, which convened Wednesday, January 11, 2017.
After a short break after the seemingly never-ending election season to enjoy the holidays, the 71st Colorado General Assembly convened on Wednesday amid the usual pomp and circumstance. As is tradition, legislators old and new arrived with lots of smiling tots and other family members in tow to stand with them as they were sworn into office. Representative Crisanta Duran (D-Denver) was elected the state's first Latina Speaker of the House. In her speech, she made note of her priority policy areas, to include transportation, education funding, and affordable housing. To that end, she also announced a construction defects bill, a bi-partisan effort that she is sponsoring with Senate President Kevin Grantham (R-Canon City) which was promptly introduced the very same day.
Over in the Senate, Senator Grantham bid a fond farewell to outgoing Senate President Bill Cadman (R-Colorado Springs.) He welcomed the chamber full of recently sworn in senators with a reminder of the Colorado Bill of Rights, recommitted to protecting taxpayers, eliminating regulatory burden, and offering more parental choice in education. He also woefully spoke of Colorado's transportation and infrastructure crisis – a section of his speech that almost mirrored Duran's. Both Duran's and Grantham's speeches were peppered with odes to bi-partisanship, but the bills read across the desk just a mere few hours later tell a slightly more partisan tale. Time will tell (soon), if this session will live up to the lofty ideals of their words or if it will be more of the same stagnation we've seen over the two sessions prior. For all Coloradans, let's hope their better angels prevail. To watch opening day speeches, click here.
On Thursday, the governor gave his State of the State speech. Beyond the usual (economic development, health-care, infrastructure, marijuana), Governor Hickenlooper called for lawmakers to put a measure on the November ballot to ask voters to approve a tax-hike for transportation needs. For the full text of the governor's speech, click here.
At Hicks & Associates, we remain busy as ever, pounding our shoe leather on the Capitol marble, pushing our client's issue forward, and keeping legislative danger at bay. You will begin to receive weekly legislative reports or communications next Friday. With well over 130 bills introduced so far, off we go!
Hicks & Associates
Jay Hicks | RJ Hicks
Subscribe to ALCC LAB - Add a feed to your browser so you can keep up with posts on this blog.