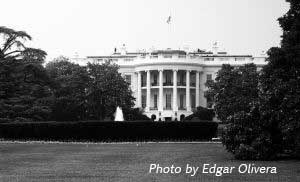 On May 19, 2015, the White House Pollinator Health Task Force released its "National Strategy to Promote the Health of Honeybees & other Pollinators." This strategy was issued along with a science based Pollinator Research Action Plan. Together they identify what needs to be done to understand pollinator losses, underlying causes, and how to support pollinator health. It also details actions that can be taken to achieve these goals.
The main goals of the strategy focus on three subjects:
Bees. Reduce honey bee colony losses to economically sustainable levels;
Butterflies. Increase monarch butterfly numbers to protect the annual migration; and
Pollinator habitat. Restore or enhance millions of acres of land for pollinators through combined public and private action.
The Task Force encourages everyone to get involved in this effort. Promoting pollinator health is not just a job for scientists:
People of all ages and communities across the country can play a role in responding to the President's call to action. YOU can share some land with pollinators—bees, butterflies, other insects, birds, bats—by planting a pollinator garden or setting aside some natural habitat. YOU can think carefully before applying any pesticides and always follow the label instructions. YOU can find out more about the pollinator species that live near you.
Everyone--individuals, communities, businesses, and government--can contribute to this endeavor. For this purpose, Pollinator Health Task Force is developing a Partnership Action Plan that will offer ways that we can all respond to the President's call to action.
The landscape industry is poised to be a leader in this initiative. As stewards of the local environment, we have an opportunity to help citizens support pollinators in their landscapes. Some of the methods of stewardship include:
Promoting the use of native plants and pollinator friendly plants

Demonstrating responsible use of EPA and state-registered pesticides

Educating consumers on how to support pollinators in their landscape
Download or read the entire report at the White House web site.
Read more in this issue of Colorado Green NOW:
Help your clients help out pollinators
Does your team have a heat safety plan?
PlantSelect offers resources for pollinator-friendly gardens and beyond
Education is key in protecting pollinators