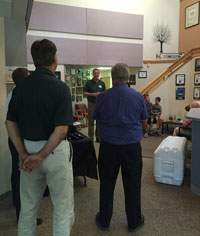 Job shadowing is a tremendous learning tool for employees. By watching an experienced, successful worker, a new employee or student can see best practices in action and better understand how to apply them directly to a work situation.
But the same learning concept can be used by employers, too. In the Colorado landscape industry, company owners are often willing to share their experience and knowledge to enrich the industry overall. By sharing successes, they help elevate the level of professionalism and improve the reputation of landscape companies in general.
ALCC believes in this method of learning and offers facility tours of member companies as an educational and networking opportunity.
"By observing the operations of colleagues, our members can share ideas and benchmark their own company," explains executive director Kristen Fefes. "They know that when one of us performs well, it reflects on the industry as a whole and shows consumers the value of what we do."
When consumers understand the value of hiring a landscape company—as opposed to a DIY approach to landscaping—it benefits all companies. For the businesses that open their doors to other business owners, revealing best practices on operations and customer service is less about sharing trade secrets than it is about helping to strengthen the industry overall.
In November, ALCC will invite members of its Northern, Southern, and Mountain chapters to tour four Denver-area facilities. Lifescape, Terracare Associates, Designscapes Colorado, and Swingle Lawn, Tree & Landscape Care will give fellow landscape professionals from around the state a look at their operations. To learn more about this unique opportunity, visit the ALCC event calendar.
Read more in this issue of Colorado Green NOW:
Where to find your next employee
Federal overtime rule: bonuses may account for 10% of salary
Best of Colorado Green NOW: 8 things your snow contract should cover
2016 Landscape Industry Certification recap for Colorado