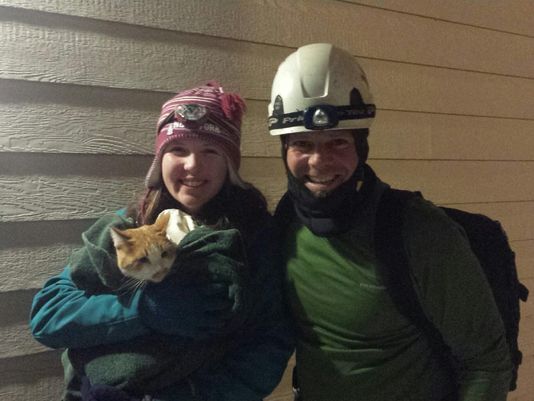 In the season of giving, there are many opportunities to help others – sometimes planned, and sometimes not. In the aftermath of the blizzard the week before Thanksgiving, arborist Patrick O'Meara, High Country Landscape, gave a spontaneous "YES!" to a cry for help and set out to do a dangerous night climb and rescue.
At 8:07 pm O'Meara had just tucked his kids into bed and settled down to browse Nextdoor.com. He read about a tabby cat shivering in the cold and stuck for 12 hours high in a tree in Lone Tree not too far from his Littleton home. He wrote back, "Climbing trees is what I do. I'm a certified arborist, have redundant climbing gear and take all the safety precautions."
He ran to tell the kids there was an emergency and ask if they were in on the plan. Sure enough, they were. They sent a quick text to mom who was studying at the library, grabbed his climbing gear and were off to the rescue.
Several neighbors had gathered around the tree and looked after the kids. The fireman next door brought a tall ladder that gave O'Meara a 10 foot head start on the climb. With lighted helmet, he started his ascent up the 40-foot linden still snow-laden from the storm. It was a slippery and noisy climb. O'Meara slid a few times and the cat meowed non-stop. "But when I got to the cat, it was easy to rescue," says O'Meara.
The cat wouldn't have anything to do with the pouch O'Meara brought to carry it in – but wrapped itself around O'Meara's neck for the descent. Back on the ground, a neighbor who happened to work for Dumb Friends took the cat to get it warmed up and on its way for care.
An hour and fifteen minutes after they left home, the kids were tucked back in their beds, the adventure had been featured on KUSA 9News-Denver, and a cold and shivering cat had been spared from another frightful night stranded in a tree.
Do you have a story of a Colorado landscape professional offering community service or responding to a need? Share your story with us by emailing it to bgarber@alcc.com.
Read more in this issue of Colorado Green NOW:
The Great Divide film to screen at ProGreen
What nearly happened is every company's worst nightmare
H-2B provisions included in approved omnibus spending bill
Here's a preview of spring