Colorado Green NOW
Written by Cherie Courtade
Tuesday, January 09, 2018 05:00 AM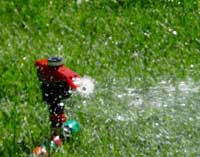 The Colorado landscape industry, through ALCC, helps support water efficiency efforts throughout the state. Most recently, landscape professionals are collaborating with the City of Aspen as the city moves forward to pilot new water efficient landscaping standards.
According to a representative from the city, the landscaping standards grew out of a regional effort to adopt the Roaring Fork Watershed water efficiency plan. Landscape efficiency was an area on which all stakeholders could agree and were able to act. Aspen had already tackled interior water efficiency with efforts that included aggressive plumbing codes, so focus shifted to outdoor water use.
Read more...
Colorado Green NOW

Written by CSU

Tuesday, January 09, 2018 04:00 AM


Landscape industry professionals can meet the future of the industry at CSU's 2018 Department of Horticulture and Landscape Architecture Professional Mixer and Recognition. Company representatives are encouraged to bring information about job and internship opportunities.

Read more...

Colorado Green NOW

Written by ALCC

Tuesday, January 09, 2018 03:30 AM


ProGreen EXPO 2018 returns to the Colorado Convention Center February 13-16. ALCC recommends taking full advantage of the conference's offerings, including education, networking, and even a little friendly competition.

Read more...

Colorado Green NOW

Written by Cherie Courtade

Tuesday, January 09, 2018 03:00 AM


Please Help #SaveH-2B - a message from the H-2B Workforce Coalition
Congress is back in session, and it is critical that your elected officials continue to hear from you about the need for immediate H-2B cap relief. As you know, the first 33,000-visa cap was reached on December 15, and the second half cap will be reached soon. Unless Congress acts promptly, many seasonal employers could be shut out of the H-2B program this year. Please ask your Senators and Representative to include H-2B cap relief in any upcoming appropriations bill and to speak personally to their party leaders about the need for cap relief.

Specifically, we hope you will take the following actions:

Read more...

Colorado Green NOW

Written by ALCC

Tuesday, January 09, 2018 02:00 AM


Landscape contractors are invited to participate in a meeting with CDOT and Bridge Enterprise and provide feedback on a proposed contract. CDOT is developing a new contract for Post Construction Establishment Phase (PCEP) services, and greatly appreciates feedback on how to structure the contract.

Read more...
<< first < Prev

11

12 13 14 15 16 17 18 19 20 Next > last >>


Page 11 of 90