Colorado Green NOW
Wednesday, January 28, 2015 08:00 AM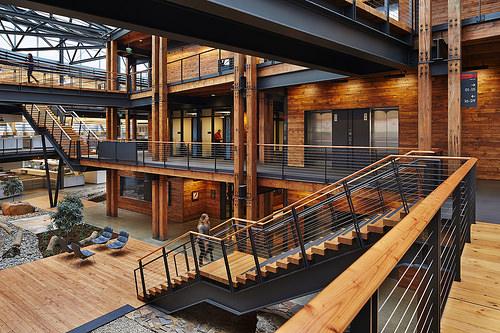 Building with wood is poised to be the next big trend in green construction and the United States Forest Service (USFS) is working diligently to make it a reality.
The environmental benefit of using wood in building products creates fewer greenhouse gasses than commonly used materials. And wood – including beetle-killed trees - harvested from Colorado and throughout the Rocky Mountain region could become a major resource in this next step of green building.
Read more...
Colorado Green NOW
Wednesday, January 28, 2015 05:00 AM

The most common New Year's resolutions among Americans are to lose weight and exercise more – among almost 25% of us. But if you combine all the health-related resolutions (stop smoking, eat healthier, etc.) improving health constitutes almost 50% of our top concerns and changes we plan to make this year.

Month 1 is about to end and even if you've fallen off your path, it's not too late to get going again. Improved health brings a sense of well-being. It makes us sharper in our jobs and other pursuits. And for businesses, good health among the team can result in less down time and reduced insurance premiums.

Read more...

Colorado Green NOW
Tuesday, January 20, 2015 08:00 PM

A new year is a new start. What you do in the next 12 months will determine where you are this time next year. Where do you want to go in terms of operations and efficiency, safety, business management, marketing and environmental stewardship?

As the saying goes, you won't know how far you've come until you know where you started. To chart progress, we need benchmarks to know those starting points. Where are we right now and where do we want to go?

Read more...

Colorado Green NOW
Tuesday, January 20, 2015 06:00 PM

Almost all landscape firms are impacted by the lack of trained and skilled employees. Most say they could do more work—and move up the backlog—if they had more people. This situation is pushing many companies to think differently about how, when and where they recruit.

Following are 3 strategies that challenge traditional recruiting methods. They were shared by a key HR and recruiting team member with a Denver-area landscape company.

Read more...

Colorado Green NOW
Tuesday, January 20, 2015 06:00 PM

ALCC members often cite hiring great staff as one of their biggest challenges. If you face a staffing shortage, have you considered hiring a US military veteran? There are many resources available to help you connect with vets and find quality employees. These resources serve the entire state of Colorado, so even if you are along the Western Slope or another town outside Fort Collins/Denver/Colorado Springs, there are tools available to you.

Read more...
<< first < Prev 71 72

73

74 75 76 77 78 79 80 Next > last >>


Page 73 of 80