Colorado Green NOW
Written by ALCC
Tuesday, November 07, 2017 05:00 AM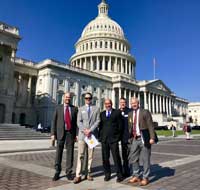 On November 2, 2017, a delegation of 20 Colorado H-2B users met with their representatives during H-2B Advocacy Day on Capitol Hill. The group met with the offices of: Senator Cory Gardner, Senator Michael Bennett, Rep. Ken Buck, Rep. Mike Coffman, Rep. Diana DeGette, Rep. Doug Lamborn, Rep. Ed Perlmutter, Rep. Jared Polis, and Rep. Scott Tipton.
Read more...
Colorado Green NOW

Written by Cherie Courtade

Tuesday, November 07, 2017 03:00 AM

On September 8, 2017, the Legal Workforce Act (HR 3711) was introduced in the House. The bill, if enacted, would require employers to use the E-Verify electronic employment eligibility verification system. The current paper I-9 system would be phased out, though employers may opt to keep paper records in addition to the electronic system.

Read more...

Colorado Green NOW

Written by Emerald Isle Landscaping

Tuesday, November 07, 2017 02:00 AM


This year, Emerald Isle Landscaping celebrates 40 years of business. In this anniversary video, the founders look back on how they built the business, and employees explain the values that have helped them achieve such longevity and success.

Read more...

Written by John McMahon

Tuesday, November 07, 2017 01:30 AM


Many ALCC members have received solicitation emails and/or physical mail regarding advertising in Colorado Lawn and Landscape magazine. The company sending the emails is Association Media Partners (AMP), which produces the onsite guide for ProGreen EXPO. AMP formerly handled the advertising and distribution of Colorado Green magazine, ALCC's official publication, but has chosen to end its contract with ALCC and has created this new publication independently of landscape industry trade associations. Colorado Lawn and Landscape is not affiliated with ALCC or Colorado Green in any way.

Read more...

Colorado Green NOW

Written by TED Talks

Tuesday, November 07, 2017 01:00 AM


Watch Diana Dosik discuss why you might improve your company culture by applying your consumer research efforts to your staff. In her TED Talk, "Why we need to treat our employees as thoughtfully as our customers," learn how company owners can remove employee pain points and improve productivity and employee retention.

Read more...
<< first < Prev 1 2 3 4 5 6

7

8 9 10 Next > last >>


Page 7 of 82