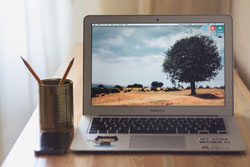 Spring officially begins next week, and consumers will begin looking for help with their landscapes. Just as you are working to build your crew and fill your schedule, you should also clean up your business's online presence so potential customers can find you.
According to a BrightLocal survey, 97% of consumers looked online for local businesses in 2017, with 12% looking for a local business online every day. Not only do you want people to find your business, but you also want them to find the best, most accurate information so that they can take the next step and contact you.
Update your web listings
Search the Internet for your business name. Are the phone number, address, and website that appear the correct ones? You can register your business with Google, Yelp, and other consumer-related sites to give you more power over what customers see online. Make sure they get all the information they need to make a decision to contact you.
You can also take advantage of the tools and resources from each of those consumer sites to improve your reputation. For example, Houzz offers webinars to help businesses get the most out of their online presence. You can request a copy of an archived webinar on Reputation Management.
Update your information at www.alcc.com/find-a-landscape-pro
Log in to alcc.com* and update your business's information and services on the "Find a Pro" tab in your profile. Hundreds of people visit ALCC's online referral page each week, looking for a landscape company to help them. Be sure that your profile is up-to-date. If you need help, contact ALCC directly so that staff can walk you through the process.
Update your website and/or Facebook page
Creating a website or Facebook page is not enough to help consumers find you. Be sure that your business hours, staff listings, contact information, and company description are correct. Have you added/eliminated services from your offerings? Make those changes too. It is also helpful to post information online and on your outgoing voicemail message to give callers a reasonable expectation about when you will respond to inquiries. For example, you might add "Due to high call volume, we will return your call within three business days. We appreciate your patience."
Automate some of your online activity
Use a free tool like HootSuite or Buffer to schedule some blog posts or Facebook updates for the next few months (Landscape Colorado, a consumer page on Facebook hosted by ALCC, is one place to find shareable content).
Some online spring cleaning can affect the success of your business this season. Make the time now to get your business ready for a great year.
*Forgot your login information? Visit http://bit.ly/ALCClogin to retrieve your password. Email [email protected] if you need login credentials.