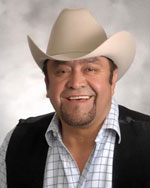 Lawn & Landscape magazine and partner Syngenta named its 2017 Leadership Class during the GIE+EXPO in Louisville, Kentucky. This year, Jesus "Chuy" Medrano, of long-time ALCC member CoCal Landscape, was part of that Leadership Class. It is a well-deserved honor. Also recognized were Rick Doesburg, Thornton Landscape; Warren Gorowitz, Ewing Irrigation & Landscape Supply; Matt Jesson, Green Lawn Fertilizing; and Emerging Leader Kelly Dowell, Dowco Enterprises.
The Leadership Awards celebrate individuals who help move the green industry forward by fostering innovation and better business practices. They also "work hard to empower their colleagues and the industry to grow and succeed."
Since the 1980s, Medrano has been a tireless advocate for the landscape industry and a true business leader. In addition to his involvement with ALCC, he helped found the National Hispanic Landscape Alliance. He and his staff travel often to speak with legislators about issues affecting the industry.
On a national level, Medrano helps promote careers in the landscape industry and sheds light on the challenges that the green industry faces. His struggles with the labor shortage were profiled in a recent story in the Washington Post.
At CoCal, Medrano has created a culture that allows employees to cultivate a career. Through efforts that include providing their own training academy and offering scholarships, CoCal encourages workers to expand their skills and develop tools to move up within the company.
There is also a spirit of family in the business—literally and figuratively. Medrano's children and his brother work at CoCal. CoCal hosts sporting events and picnics for all employees to come together with their families. This supportive atmosphere is key to employee retention—some employees have been with the organization for three decades.
Learn more about Medrano and his accomplishments at http://magazine.lawnandlandscape.com/article/october-2017/living-the-dream.aspx. See the entire 2017 Leadership Class at http://www.lawnandlandscape.com/article/ll-101817-leadership-awards-2017/.
Read more in this issue of Colorado Green NOW:
Colorado companies shine at NALP awards
Recording an effective advocacy video
ALCC to join national advocacy fly-in
Mike Leman of Singing Hills receives national award for advocacy