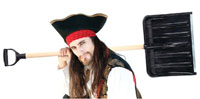 In the busy snow season two years ago, many companies lost their snow shoveling crews right off job sites. They were lured away by snow pirates who offered a lot more pay and cash in their pockets when the job was done.
Most company owners responding to an ALCC poll this year said pirates were not such a problem last winter due to lack of snow. Two seasons ago was a different story. Several owners shared details of how they were raided. Wrote one, "In previous years, we have had entire snow crews evaporate." Another said, "We all talk about the shortage of landscape workers, however, the shortage of temporary hand shovelers in the Denver area is twice as bad."
Said another, "This has happened to us the last two years and we lost three big jobs because of it. I also received calls from properties where the same thing happened and they wanted to know if we had the capacity to take care of them."
Some said these covert ops weren't so much done by their direct competitors as by the subs who'd been hired to deliver shovelers. On the line to produce people, subs seized every opportunity to pirate other company's workers. Most owners indicate they are opposed to people-stealing tactics whether it's in the landscape season or snow season.
Because of these raids, many businesses started last year's snow season with new strategies in place. Overall, companies seem to be adjusting their strategies due to general lack of labor and knowing their people could be pirated off sites in the middle of the night. At least one-third of respondents reported raising hourly wages and passing costs on to the client.
Said one, "Any snow shoveler can pretty well name their price and CASH IS KING!" The same owner went on to speak grudgingly about how companies like his that operate within the law are undone by unscrupulous operators who pay cash on the spot.
Some owners said they are taking on less work to avoid jeopardizing maintenance contracts. Wrote one, "Snow removal is the number one reason for growing our business in moderation only. Every maintenance job we bid, we have a snow strategy in place before we even offer a bid. Lack of labor is a big problem."
Other strategies included seeking new sources of employees and ramping up with more equipment to become less labor intensive. Wrote one owner, "We are constantly trying to make connections with companies outside our industry that can't generally work during a snow event." Another said they have started mechanizing more of their operations and paying operators higher wages to help close the labor gap. Others reported making sure new purchases of landscape installation equipment can do double duty by performing during snow operations.
Read more in this issue of Colorado Green NOW:
Local data you can use: Trees, health care and work loss
Safety Achievement Awards recognize ALCC member companies
Is the key to employee retention treating them like customers?
5 ways to beat stress at work