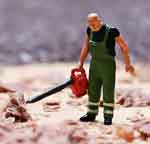 A recent article by investigative news nonprofit FairWarning has gained placement in dozens of news outlets across the US. The trending article discusses the health effects of gas-powered leaf blowers and offers anecdotes about laborers who suggest that their health issues are the direct result of the machines. It also presents some of the findings of a test commissioned by FairWarning to measure industrial hygiene at sites in Southern California over a period of three days.
National Association of Landscape Professionals (NALP) shared this coverage with members so that they can be prepared to answer questions from employees or consumers who may come across the article. They also offered a reminder that landscape companies should continue to promote safety practices among employees.
NALP encourages those who use leaf blowers to:
Follow manufacturers' maintenance schedules

Update equipment to the latest model that is in compliance with current regulations [Note: the City of Aspen banned the use of gas-powered leaf blowers in 2003]

Retire equipment when it is noticeably worn and/or discharging unacceptable fumes

Provide employees with the proper Personal Protective Equipment and ensure its proper use
NALP will soon share a Safe Leaf Blower Pledge, which professional companies are encouraged to utilize with employees to make sure they are using blowers safely, responsibly, and respectfully in the community. This pledge can also assure customers that your business cares about the health and safety of both your workers and your clients.
Read more in this issue of Colorado Green NOW:
Compliance can be tricky with tree and shrub work
Learn to "mow down pollution" with alternative fuels
Making sense of backflow prevention rules
Need to improve your company's reputation? Answer your messages.